How to Animal / Childproof Your House for a Party
Parties are supposed to be fun, but if you constantly have to keep an eye on your pets and kids, or worse, your guests' pets and kids, it could become a lot less fun for you. Here are some tips to take the stress out of your party and let you enjoy the time as much as everyone else.
Two Days Before the Party
Plan Where to Serve the Food
Plan where you're going to serve the food. Keep in mind that your guests' pets may not be as well behaved as yours, so keep food up high -- no candy dishes on end tables, especially if it's candy that can harm toddlers or pets. Things that can harm dogs include chocolate and raisins; hard candy could be a choking hazard for toddlers.
Stock up on Cleaning Products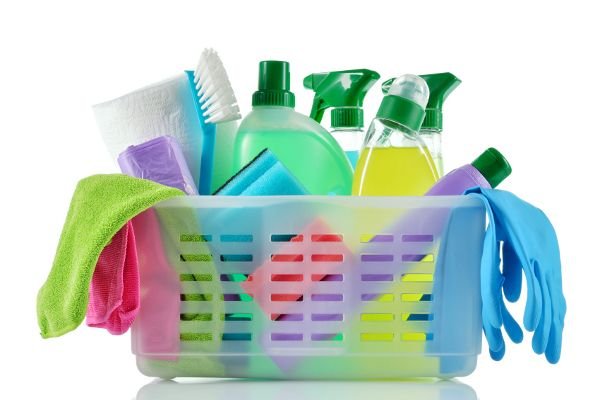 Unfortunately, a party isn't complete if there isn't at least one spill. Make sure your supply of "spill" cleaners is up to par. Keep those cleaners in a readily available area where they can be reached quickly, but are out of reach of kids and pets.
Cover Furniture
If you're worried about your furniture, get some inexpensive furniture slip covers. To help protect your carpets, Scotchguard them a couple days before the party.
One Day Before the Party
Set Up Decorations So Pets Can Acclimate
If you're planning on decorating, today would be the day to do it, since it gives your pet time to get used to the new setting before any guests arrive. Decorations should be safe for kids and pets. If your party is centered around the winter holidays, remember that kids and animals are attracted to shiny things. Tinsel can be very harmful to both. Strung popcorn and cranberries can also be very tempting to creatures big and small, but the string could be very dangerous to them if swallowed.
Hide Breakables and Valuables
Today would also be a good day to walk through party areas and gather breakables and valuables. This would include things like glass vases, laptops, iPads, keys, money, and remote controls. Keep these items stored in a room where guests will not be allowed to go. (If possible, a room that is locked.) It will give you peace of mind. Even if you trust everyone that is coming, children and pets can destroy things without meaning to.
Use Safe Candle Alternatives
If you're planning on putting out candles, use flameless, battery-operated candles. They are safer than an open flame. Nowadays you can even get flameless candles that give off a scent.
Secure Cabinets and Drawers
If there are going to be toddlers present, think about putting childproof gadgets on lower cabinets that have hazardous chemicals in them. Even low drawers that have sharp or breakable objects in them are a potential hazard for kids -- they love emptying cabinets and peaking in drawers just for the fun of it.
Hide Harmful Plants
Put any toxic plants in the same room as you placed your valuables.
The Day of the Party
Some things are just a given at a party. Place napkins in a visible and easily reached location, where all the guests will see them -- you never know when they may want to help clean up a spill. Place coasters on end tables, even children usually know what they are for.
The best thing you can do for yourself is make a sign that includes "rules" for the party. If you put it in a pretty frame, it might not seem so obtrusive! Some of the "rules" you might put on the sign include:
Please remove your shoes
Please keep handbags out of reach (especially if there is candy, gum, medications, or perfume enclosed as they can harm the pets and/or kids)
Please don't feed the pets human food
Please do not leave your drinks or food plates unattended
Please do not leave doors open (kids and pets could get out)
Please close the lid on the toilet when done (kids could fall in, pets could drink water)
No smoking indoors
Right Before Guests Arrive
Keep your party contained to a few rooms, which will result in less clean-up and less chance for mishaps. Close doors where you don't want people to go. If you have a second floor or a basement, put up a baby gate to deter pets, kids, and other guests from wandering up or down the stairs.
Last but not least, if your pet is overly sensitive to the hubbub of company, put them in one of the closed rooms where they will feel safe. (Don't forget to put their water and food bowls in the room, too.) Check on them occasionally to give them the confidence that you are still around.
Your young children can also be put to bed at their usual time. (Hopefully you have a bedtime routine in place long before you even thought of having a party.)
Now all the pre-planning has paid off, and you can enjoy yourself and the company of your guests!
Sandy has a lot of home improvement background. She worked for a big box home improvement company for 12 years and wrote home improvement articles for the community newspaper for 2 years. From organic ways to keep deer out of the garden, to explaining how to winterize your house, Sandy can help you with all things DIY!