How to Build a Wood Bench
To ensure our content is always up-to-date with current information, best practices, and professional advice, articles are routinely reviewed by industry experts with years of hands-on experience.

Reviewed by

on Jun 08, 2023
2-6 hours

•

Intermediate

•

200-300
(6) 8' 2x4s
Redwood is ideal for untreated outdoor use, but standard wood such as Douglas Fir is fine
2 ½" course screws
Crosscut saw
Power drill
Tape Measure
Clamp
(6) 8' 2x4s
Redwood is ideal for untreated outdoor use, but standard wood such as Douglas Fir is fine
2 ½" course screws
Crosscut saw
Power drill
Tape Measure
Clamp
A wooden bench is a great project for a beginning DIYer. Whether you'd like a simple bench for your backyard or basic plan to get creative with, this project can be made in less than a day.
While there are a variety of methods for creating joints, for this project we'll be using a pocket hole joint. Pocket holes are an easy way to keep joints from twisting, incorrectly lining up, or leaving gaps. They can create a smooth look when joining wood together by hiding unsightly screws or dowels.
We used a Kreg Jig, the leading tool for creating pocket holes quickly and easily. The Kreg Jig K4 created a large amount of dual pocket holes in the wood while easily clamping our project in place; however other Kreg Jigs, like the smaller R3, can be used as well.
Step 1 - Determine Your Bench Measurements
Your bench may vary based on how high you'd like the seat, back, and arm rests, as well as how many people should comfortably fit. For a standard two-person bench, we cut our 2x4s to the measurements below:
(2) 22 ½" arm rest

(2) 16 ¾" front leg

(2) 31" back leg

(3) 48" seat planks

(2) 41" back planks

(1) 48" top of back

(2) 44 ½" front/back of seat

(2) 15" side of seat
Step 2 - Drill Pocket Holes
As this bench contains a large amount of 90 degree angles, we recommend using a pocket hole joint for a smooth design.
On a Kreg Jig, raise the drill guide to the thickness of your wood. Standard 2x4s generally measure 1.5" thick. This guide will ensure your pocket holes will exit close to the center of the wood piece. Next, place your step bit onto the setup gauge on the base of the jig. Line the step shoulder with the thickness of your wood, slide the stop collar into place, and tighten. This will ensure your drill bit will create the perfect depth every time.
Using a clamp, either your own if using the Kreg Jig R3, or the attached clamp on the K4, secure your wood piece against the drill guide. Drill two holes for a strong joint. The Kreg Jig K4 has a preset guide for several widths. For 4" wide material, use the A and C placement.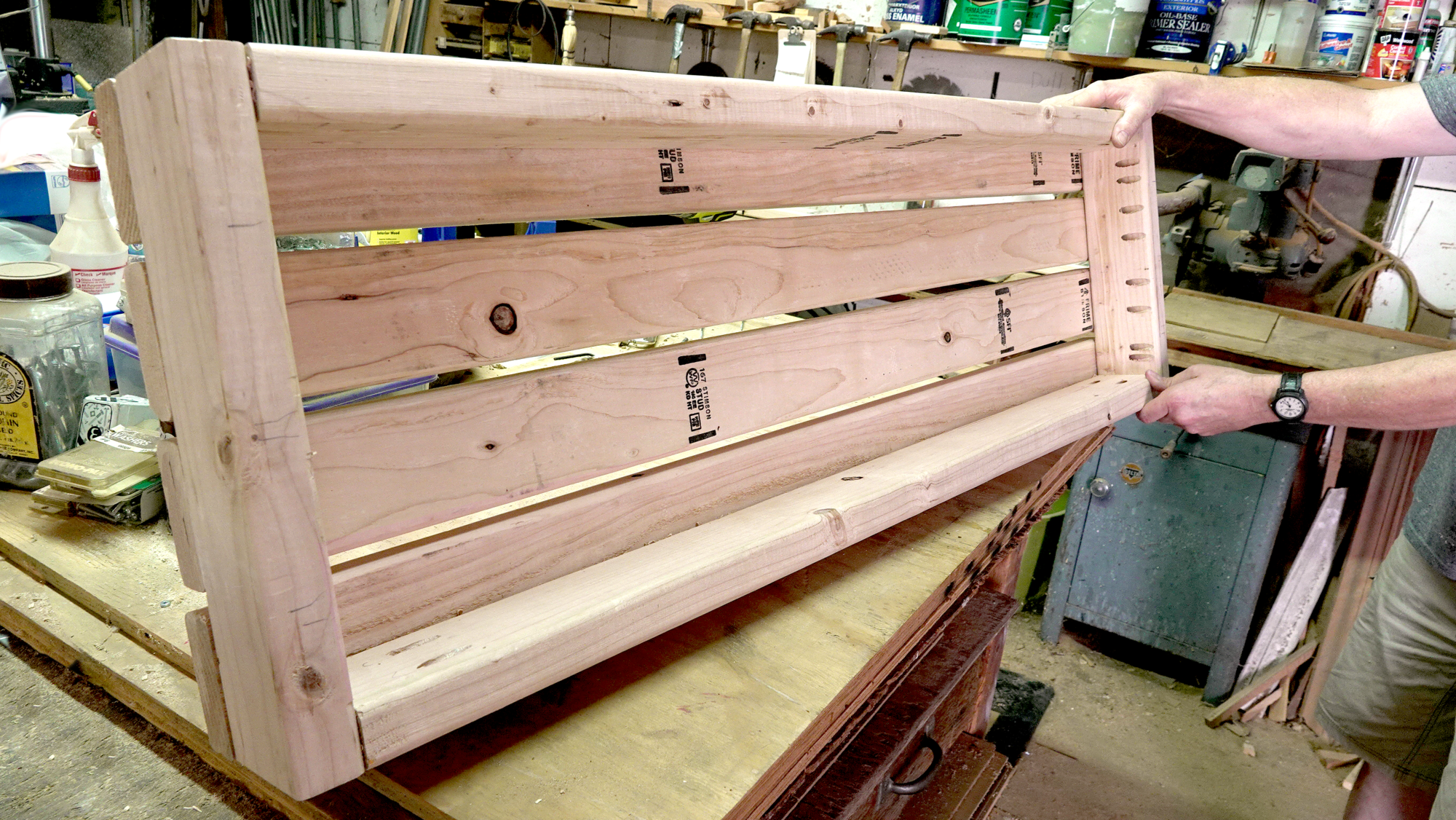 Step 3 - Assemble the Bench Seat
Use a Kreg right angle clamp, or a helper with steady hands, to hold two wood pieces together where needed. We recommend using Kreg pocket screws as they have a deep square drive to lessen the possibility of slipping your screwdriver out while tightening. They also feature a self-tapping auger point that eliminates the need for pilot holes in your work, reducing project time.
Assemble the chair seat first. It should resemble an open box. Space the horizontal planks equidistant. While it is possible to create a completely gap-free seat for your bench, changes in weather and temperature can cause your wood to expand and contract, leading to cracks or warping in your bench seat if planks are too close together.
Step 4 - Attach the Arm Rest
Secure the front legs to the arm rest pieces. This will create two separate right angles. Attach the finished bench seat so that the top of the seat is 16" off the ground.
Step 5 – Assemble and Attach the Back of the Bench
Attach the back pieces together, leaving equally spaced gaps between the back planks. This can be altered if you'd like to add more planks to your back, but you may need to cut them to different widths so they fit in the space created.
Once the back panel is securely assembled, attach the piece to the seat and arm rests. Make sure the back legs line up with your front legs. Double check your measurements before screwing the piece in place so you don't risk a lopsided bench.
Step 6 - Optional: Put the Finishing Touches on Your Bench
Once your bench is assembled, it's ready for use! However, you may want to sand the edges or add decorative elements using a router.
Add paint or varnish to seal the wood for outdoor use. Look for every nook and cranny throughout your bench and make sure every crack is filled in. Don't forget the bottom of the legs!
Once you've built your first bench, it's easy to see how these elements can be used in other projects such as chairs, side tables, etc. A Kreg Jig is a simple way to make strong joints for any project while not compromising the finished look, leaving you with more time to get creative with your design!