How to Cover Your Concrete Basement Floor
To ensure our content is always up-to-date with current information, best practices, and professional advice, articles are routinely reviewed by industry experts with years of hands-on experience.

Reviewed by

on Mar 13, 2023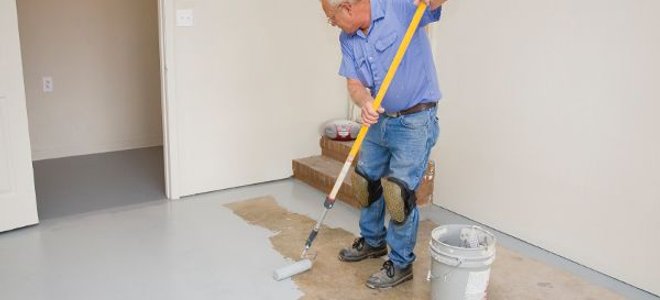 There are many options for covering your concrete basement floor in order to improve the look of the basement. If you are planning to finish your basement, you may need to cover the floor to match the décor and make the room more inviting.
Paint the Concrete
One of the easiest ways to cover your concrete floor is to paint it. There are a number of paints available, which are specifically designed for concrete floors.
If you choose to paint, you will need one or more rollers, roller pans, extension polls, and paint. Select a paint color that fits your basement well. Also consider using a non-slip paint or new concrete stain.
Carpet Flooring
Carpeting is a great option if the basement will be used for recreation. It is also a good option if you are converting the basement into a theater, because it deadens sound and prevents echoing.
Installing the carpet involves several steps. You must first select the carpet you wish to install, as well as compatible padding. A thick padding is best in a basement because concrete does not offer any natural padding. Install tack strips to the corners of the basement and roll the carpet. Use kick plates to stretch the carpet to the tack plates and hammer it into place.
Laminate Flooring
Laminate flooring is a good option for a basement that will be converted into an entertainment area, wet bar, game room, or home gym. Laminate is good in a basement because it can be installed directly on the concrete and is resilient to moisture.
Choose laminate flooring with a thick padding attached to the panels; it will deaden sound when walking. The panels use tongues and grooves to connect. You do not need to nail, staple, or glue the panels to the floor.
You will need a circular or table saw to cut the panels at the edges to fit your space. It is a good idea to install trim molding around the basement walls to cover the edges of the flooring and make it look finished.
Engineered Wood Flooring
Engineered wood flooring is similar to laminate, but it uses real wood. The wood is attached to plywood panels, which allows engineered wood to be installed directly onto concrete.

Installing engineered wood is a similar process to installing laminate flooring. Like laminate flooring, engineered wood uses tongue and grooves to connect each panel. You do not need to staple, nail, or glue the panels down, although it is a good idea to use an anchor. Doing so provides a solid feel to the floor. You will need a circular or table saw to cut the panels near the edges to the right size. Install molding to finish the look.