How to DIY a Flocked Christmas Tree
To ensure our content is always up-to-date with current information, best practices, and professional advice, articles are routinely reviewed by industry experts with years of hands-on experience.

Reviewed by

on Jun 26, 2023
1 hours

•

Beginner

•

100-200
Six bars of soap
Handheld cheese grater
Large bowl
Hand or stand mixer
Liquid cornstarch or white glue
Glitter glue and food coloring (optional)
Tarp, sheet, or newspapers
Ladder
Safety goggles
Mask
Gloves
Paint brush
5-6 cans white spray paint
Tarp, sheet, or newspapers
Glitter (optional)
Six bars of soap
Handheld cheese grater
Large bowl
Hand or stand mixer
Liquid cornstarch or white glue
Glitter glue and food coloring (optional)
Tarp, sheet, or newspapers
Ladder
Safety goggles
Mask
Gloves
Paint brush
5-6 cans white spray paint
Tarp, sheet, or newspapers
Glitter (optional)
With the holidays nearly here, it's the perfect time to decorate your home and make it as festive as possible. From ornaments to lights, a Christmas tree is a great way to get the whole family in the spirit and to make your home look fabulous. A flocked Christmas tree is an even better twist on a classic holiday staple, so why not use your DIY skills to create one? Read the full tutorial below and you'll be on your way to a winter wonderland within the comfort of your own home.
What's a Flocked Christmas Tree?
You may be asking yourself, "What is a flocked Christmas tree?" You've likely seen them many times. These trees look like they're covered in snow or frosted. Tree flocking dates back to the 1800s, when those going for this look used substances like flour or cotton to get the desired aesthetic. The look really caught on in the late 1950s and 1960s. If you've ever pined for a white Christmas, a flocked tree is the perfect way to get just that—only inside four walls.
How to Flock Your Christmas Tree - Method One: Soap Shavings
The use of soap shavings to give your tree a snow-kissed look is a traditional way to go about it. It's also economically friendly. Use a gentle soap such as the brand Ivory in order to keep the fragrance to a minimum. Keep in mind, though, that this method could take up to 30 hours to complete, so plan accordingly.
Step 1 - Make Your Shavings
Make your shavings by using a cheese grater and large bowl. Place the bowl under the grater and grate your soap bars until they are all adequately flaked. You will need two cups of flakes.
Step 2 - Mix the Flakes
Mix your shavings with two-thirds cup of liquid cornstarch or white glue. It's most effective to use a hand or stand mixer to do this. Add in four tablespoons of warm water and continue to mix until well combined.
Step 3 - Add a Tint
If desired, now's when you would tint the mixture with food coloring or even something like glitter glue to give your snow-like substance the exact look you're going for.
Step 4 - Continue to Beat
Beat the mixture until it turns into stiff peaks with a creamy consistency.
Step 5 - Apply the Mixture
Before beginning the application process, be sure to take the proper safety precautions. Wear a mask, gloves, and safety goggles for this part of the process. Place an old sheet, a tarp, or newspapers on the ground and set your tree up outside. Stand on a ladder close to the crown of your tree. You should work from the top down when applying the substance. Using a paint brush, scoop a dollop of the mixture and apply to the tip of the tree needles. Refrain from smearing the substance and from brushing the underside of the branches.
Step 6 - Allow the Flock to Dry
Allow the substance to dry for 24 hours or more to ensure that it's completely settled on the branches. Once dry, you can continue with your decorations.
How to Flock Your Christmas Tree - Method Two: Spray Paint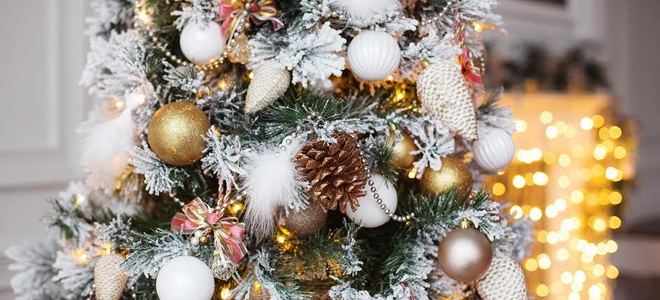 Another popular and effective method of flocking a Christmas tree is to use spray paint. While this method will cost a bit more to carry out, it provides a quicker turnaround time than the soap method above. It will take between three and four hours to actually perform and require only eight hours of drying time. Keep in mind that this is not a good method to use if you plan on using lights on your tree, as it could pose a safety hazard. For this project, you'll need five or six cans of white spray paint, depending on the size of your tree.
Step 1 - Set Up Your Tree
Similar to what was done in the last method, set up your tree outside atop a sheet, tarp, or newspapers. Position a ladder next to the tree.
Step 2 - Spray the Tree
Before spraying the tree, ensure you are taking the proper safety precautions. Wear gloves, a mask, and safety goggles to protect yourself from the paint. Stand on the ladder close to the top of the tree, again working from the top down. Start by spritzing inner branches, working your way to those that are outer. If desired, sprinkle glitter onto the branches when they're wet with paint to add more luster to your tree. Avoid spraying the underside of branches.
Step 3 - Let the Tree Dry
Let your tree dry for at least eight hours, but up to 24 depending on its size and how thickly layered the paint was sprayed onto its branches.
Creating your own flocked holiday tree is as simple as that, and then it'll be yours to enjoy for years to come if you use an artificial tree. A snow-kissed tree is the perfect way to enjoy a white Christmas without having to actually brave the chilly temperatures outside!
Sara LeDuc is a freelance writer for DoItYourself.com. She also writes for a handful of other websites and platforms. She has been growing her skills and client base for the past two years, but has been passionate about writing for as long as she can remember. She has worked with Internet Brands for over three years and enjoys learning about — and completing — DIY projects and keeping up with the latest and greatest home improvement trends. Besides her work for DoItYourself.com, Sara also has worked with retail, human resources, fitness, commercial, and medical clients to help them increase client engagement, grow their following, and drive traction to their blogs and websites. Sara has furthered her skills and reach by working as an editor with a media company. This has helped her diversify her abilities as a writer and work with additional writers, editors, and a wider range of clients. Sara enjoys continuously learning and building her skills in the field by working on SEO campaigns and outreach programs to increase the visibility of her freelance clients. She loves being creative, pitching article and post ideas to clients, learning more about the freelance industry, and completing DIY projects.

H.R. Helm is an accomplished DIY craftsman. He has been DIY since childhood and is now a septuagenarian. He is experienced in wood and metal construction, having designed and built several houses and metal buildings. He built every permanent building on his current homestead and did all the plumbing and electrical work. He has several years experience as a professional cabinet builder, and he is an accomplished auto repairman, having operated an auto repair business for many years. He currently has a home shop where he sharpens and rebuilds saws, repairs lawn mowers, mobility scooters, hydraulic jacks, and anything else that comes along. He also builds custom tools for metal working. Invention prototypes are another of his many accomplishments. He owned and operated a manufacturing business building Compact Utility Vehicles for homeowner use. H.R. enjoys making jams and jellies during fruit season along with cooking meals. He is committed to outdoor cooking in a Bar-B-Q pit he welded together several years ago. He maintains fruit and nut trees along with helping his wife with a vegetable garden. He farmed commercial garden produce for several years. It helps to have over 50 years of farming and ranching experience. Employment/Education Highlights ASE Certified Master Auto Technician Certified Welder Cross country truck driver -- over dimensional freight Design Engineer/Project Manager for injection molded plastic company Bus Driver/Substitute Teacher Inventor with two patents (weight training – anti-rollback for manual wheelchair) BS in Industrial Technology