How to Get Latex Caulk off of Brick
To ensure our content is always up-to-date with current information, best practices, and professional advice, articles are routinely reviewed by industry experts with years of hands-on experience.

Reviewed by

on Jan 10, 2020
2 hours

•

Intermediate

•

10
Hair Dryer/Heat Gun/Caulk Remover (only one)
Utility Knife/Razor (only one)
Sponge
Water
Isopropyl Alcohol
Hair Dryer/Heat Gun/Caulk Remover (only one)
Utility Knife/Razor (only one)
Sponge
Water
Isopropyl Alcohol
Latex caulk is a very useful material for many reasons. It is waterproof, and easy to install. It tends to stay where you put it. However, this can be a problem if you need to replace it. Working on latex caulk is tricky, and getting all of it off of a surface can be difficult, particularly if you are working on a rough surface like brick. However, if you use the right strategies, you can get caulk off even the most difficult of surfaces.
Step 1 - Soften the Caulk
Use your hair dryer on the caulk you plan to remove for a decent period of time, but not on one section continuously. This will soften the caulk up and make it easier to remove. In the event that you have a heat gun already, you should use that instead.
Alternatively, you can use caulk remover to soften the caulk. This involves purchasing caulk remover, and is much slower. If you choose this method, you must plan to apply the caulk remover, then leave it to sit overnight while it does its work.
Whichever method you choose, it will soften the caulk enough that you can work on it.
Step 2 - Remove Large Pieces
Once your caulk is soft enough to work on, use a utility knife to remove it. Slide the knife in between the caulk and the wall, and then separate it. Do this to both edges of the caulk seal. Once the caulk has been cut free of the wall on both sides, you should be able to lever it out completely. Do this as slowly as possible, as the more force you use, the more likely you are to make a mistake. You can use a razor or any dedicated scraping tool in place of a utility knife.
Unfortunately, it is likely that there will be pieces of caulk that are too small to cut off without damaging the surrounding surface. Do not attempt to scrape them off.
Step 3 - Remove Small Pieces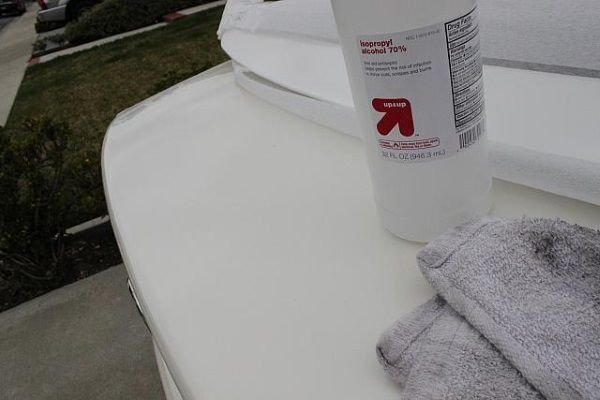 Once you have removed all you can with your scraping or cutting tool, dampen a sponge and use it to clean the area with any remaining pieces of caulk on it. Rinse the sponge regularly as you work to remove caulk fragments from it.
Once you have removed any loose fragments, apply isopropyl alcohol to any areas that still have caulk on them. Let the isopropyl alcohol sit for several minutes, and monitor it carefully, as it is flammable. During this time, the alcohol will cause the caulk to swell up and detach from your bricks.
Step 4 - Finish the Job
After the isopropyl alcohol does its job, you should be able to remove the remaining caulk. Get out your sponge again and wipe away the fragments that have been left behind. Rinse the sponge often, and be sure to wipe every area clean that has had alcohol on it.
Angelo is a contributing writer for DoItYourself.com. He's an experienced home improvement researcher and project creator with a wide range of interests, and especially enjoys learning about plumbing, gardening, window design, and tree cultivation.

With over 20 years of professional home cleaning experience, Lindani has extensive knowledge about best practices, space management, and cleaning solutions. Lindani especially loves researching natural, non-harmful ways to clean. She holds an LLBS from the University of Zimbabwe, and is a lifelong learner who always seeks to improve the world around her.