How to Hide Electrical Cords
Electric cords are a necessity in any home, but that doesn't mean you have to like the way they look. Luckily, there are an abundance of ways to hide these unsightly cords.
Handled Baskets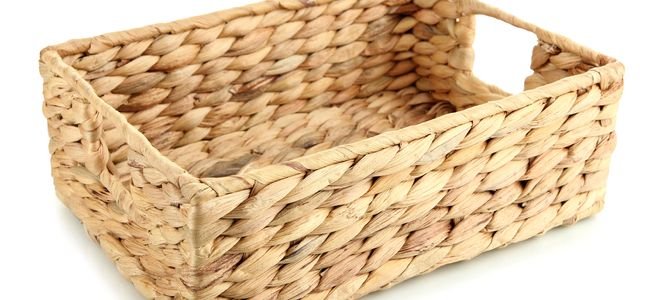 Baskets with handles strategically placed around your home are a great way to hide electrical cords. Wicker baskets that have open handles built into them allow you to slip the cords through the handles and leave the bulk of the wires in the basket, allowing them to be out of your sight line for the most part.
Strategically Placed Rain Gutters
This cord hiding solution may seem strange, but it works like a charm. Particularly under console tables or desks, installing a rain gutter that can house hanging cords is the perfect way to keep things looking neat and tidy. You can even paint the rain gutter to match your furniture, making it blend in perfectly.
Create a Charging Drawer
Instead of having your various devices on the counter or on a table charging with their respective cords exposed, create a charging drawer. Use a hole saw bit attachment on your drill and create a hole in the back panel of the drawer you're using for this project. Make sure the drawer is located near an outlet.
Feed the cord of a surge protector or power strip through the hole and use double-sided adhesive to attach the power strip to the back of the drawer, with the outlet openings facing forward. Then, use drawer dividers to keep your devices organized as they're plugged into the drawer to charge. It's also useful to drill a hold in the back of a nightstand drawer to keep cords for chargers out of sight.
Use Cord Channels
Cord channels are an easy and convenient way to disguise cords that would otherwise be running across your floors. This solution works particularly well for things like lamps or other larger appliances. These are meant to run along your baseboards and cover cords, tucking them close to the edge of the room and blending in with the baseboards. These can be purchased at your local hardware store and are self-adhesive, featuring hollowed out middles to house the cords. These are easily stuck directly onto your baseboards, making installation a breeze.
Zip Ties
For cords that peek out from behind furniture, zip ties are an easy solution. Tie cords together with these small yet versatile helpers and then mount a surge protector to the wall. This helps hide electrical cords that are seen from the bottom of a piece of furniture. Get the cords off the floor and out of your line of sight, as easy as that!
Help Cords Follow the Furniture
Cords of items that sit on top of furniture - like table lamps, alarm clocks, and everything in between - can make it tricky to conceal cords. However, you can easily use adhesive hooks or adhesive cord holders to allow the cords to follow the furniture and, thus, remain out of your line of sight. Use the hooks or cord holders to guide the cords down the back of the furniture legs so that you don't see cords hanging.
Use a Staple Gun
A heavy duty staple gun allows you to banish the sight of cords underneath a desk or table.
Mount a Cord Organizer
For the many cords it takes to power a computer along with other desk accessories, use a handy cord organizer that you can use on your travels. Then, use a double-sided adhesive to mount it underneath the desk. Wind cords up as much as possible, each of them occupying their own spot in the organizer. This will keep cords from getting tangled and looking unsightly.
Binder Clips
Use binder clips to wind up wires that have excess slack, allowing you to tuck the bundle of them behind furniture or discreetly under a curtain.
While a mess of electrical cords can be quite an eyesore, there are certainly many ways to hide them in plain sight. These are just some of the ways to keep wires organized and hidden.
Sara LeDuc is a freelance writer for DoItYourself.com. She also writes for a handful of other websites and platforms. She has been growing her skills and client base for the past two years, but has been passionate about writing for as long as she can remember. She has worked with Internet Brands for over three years and enjoys learning about — and completing — DIY projects and keeping up with the latest and greatest home improvement trends. Besides her work for DoItYourself.com, Sara also has worked with retail, human resources, fitness, commercial, and medical clients to help them increase client engagement, grow their following, and drive traction to their blogs and websites. Sara has furthered her skills and reach by working as an editor with a media company. This has helped her diversify her abilities as a writer and work with additional writers, editors, and a wider range of clients. Sara enjoys continuously learning and building her skills in the field by working on SEO campaigns and outreach programs to increase the visibility of her freelance clients. She loves being creative, pitching article and post ideas to clients, learning more about the freelance industry, and completing DIY projects.