How to Install Curtain Rods for Corner Showers
To ensure our content is always up-to-date with current information, best practices, and professional advice, articles are routinely reviewed by industry experts with years of hands-on experience.

Reviewed by

on May 11, 2022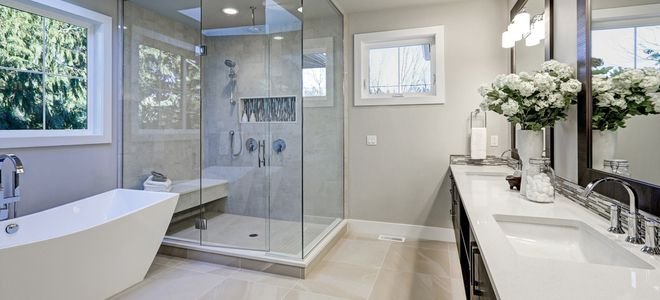 If you have a corner shower, you may not be able to install a standard parallel curtain rod. What you will need in order to properly mount your shower curtain is a corner shower curtain rod.
Corner Shower Curtain Rod
This kind of rod works just like a straight curtain rod except that the rod itself is bent at a 90-degree angle so it can be mounted to adjacent walls. A quick and easy way to install the rods is to begin by making your measurements by holding your bracket up to the wall and marking the spots where the screws will enter into the drywall.
Be sure to use a stud finder so that you are drilling into a solid base and that the rod will be secure in the wall. With the screws in place, you can attach the curtain rod by screwing it directly into the stud.
Quick Work
Now you simply need to slide the clips onto the curtain rod and attach the curtain to the clips. An important thing to remember is to measure the point where the curtain rod will be drilled to the ground. This way you are able to buy the proper length shower curtain and will not have to make that final run to the store before enjoying a nice hot shower.