How to Make a Balcony Railing Safe for Children
To ensure our content is always up-to-date with current information, best practices, and professional advice, articles are routinely reviewed by industry experts with years of hands-on experience.

Reviewed by

on Jun 01, 2021
3-5 hours

•

Beginner

•

100-200
Sheets of Perspex
Drill
Cable ties
Tape measure
Circular saw
Plastic wire
Sheets of Perspex
Drill
Cable ties
Tape measure
Circular saw
Plastic wire
A balcony railing isn't inherently safe for children. It's all too easy for children to fall from balconies. You need to make sure that both the balcony and the balcony railing are safe if you're going to allow children to play there.
Step 1 - Check Balcony Railing
The very first thing to do if you want to make your balcony railing safe for children is to check the balcony railing itself. The uprights should be no more than four inches apart to prevent a child wriggling through. The railing itself needs to be secure on the balcony; it shouldn't sway or wobble when you try to move it.
If there are any problems with the balcony railing you need to take care of them at this stage. This might mean making the balcony railing secure on the balcony or adding extra uprights. The balcony railing needs to be 36 inches high in order to be legal. If they're not this tall you'll need to replace the railings in order for them to be safe for children.
Step 2 - Plastic Wire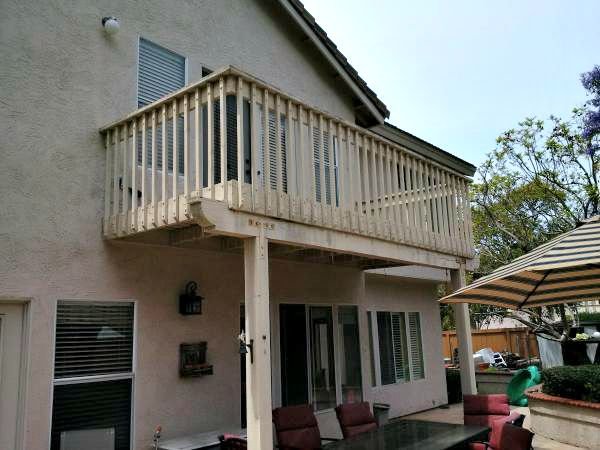 The easiest way to make a balcony railing safe for children is by using plastic wire. This is very flexible and can be unrolled, cut and attached to the balcony railing with cable ties.
It will do a good job of helping to keep children on the balcony and not allow them to push between the railing uprights. The disadvantage is that it looks cheap and won't match the balcony railing. It does make a good temporary solution, but to keep your balcony looking good you'll want something that looks much better.
Step 3 - Plexiglass
A better and much more permanent solution for making a balcony railing safe for children is plexiglass. It's transparent it doesn't ruin the look of the balcony and it gives greater protection than plastic wire.
Step 4 - Installation
Measure your balcony railing, both the height and the length. Buy sheets of plexiglass that fit. If they're too large then you will need to measure them and cut them to size using a circular saw. The plexiglass can be smaller than the size of the balcony railings. Fitting the plexiglass will be easier if it's somewhat small. You might even choose to use two sheets of plexiglass to make up the length of the balcony.
Before you remove the plastic cover from the plexiglass, drill a series of 1/4 inch holes around the edges. Keeping the plastic on it will help prevent the hole from cracking. Remove the protective plastic. Hold the plexiglass in place on the balcony railing, centering it for the best effect but making sure there are gaps of no more than two inches all around. Secure it in place using cable ties. These will last for years without slipping. Put cable ties through all the holes you've made to keep the plexiglass secure on the balcony railing.