How to Organize an Indoor Drop Station for Winter Gear
To ensure our content is always up-to-date with current information, best practices, and professional advice, articles are routinely reviewed by industry experts with years of hands-on experience.

Reviewed by

on Jun 26, 2023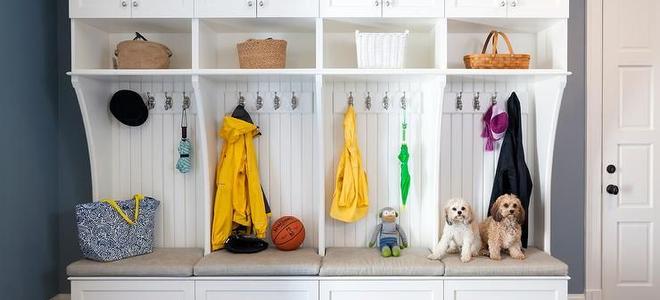 Image via DecorPad
Like it or not, winter is just around the corner. With it comes heavy coats, boots, rain, snow, and a mess in your entryway. Get ready for the season with a little organization and a new space to make sure everything lands in the right place!
Evaluate Your Needs
The first step in the process is to evaluate what it is that you need. The number of family members and frequency of guests will help you decide how many coat hooks you require. Consider your traffic flow. Do all family members come and go through the same doorway? If the kids use one door and the parents typically use another, divide and organize. The key is to work with your current habits so that your system is in place and ready for you before you drag multiple bags of groceries in through the rain.
Is your winter cabin at the base of the mountain? If so, chances are that a space for skis, boots, and poles will be part of the plan. For an area that receives regular rain, an umbrella drop is a must-have. Shoes and coats also need a landing pad. Location is everything when it comes to a winter-wear drop spot—if it's not convenient, no one will use it. Make sure that whatever system you use is located in that main traffic flow area.
Shoes and Boots
Again, consider your habits. Do you kick your shoes off with your heel when you walk in the door? If so, a shelving unit is probably not for you. This solution would only create a bigger problem when the family leaves the shoes laying in front of the shelves. (We know; that would never happen, right?) One solution is to use a trunk or bench with hidden storage. The bottom of a closet or a large basket are options, too. If you're a little more regimented about placing your shoes where they belong, place a shoe rack inside a closet or along a wall in your entryway. You can easily make shoe racks with wood or laminated boards. Otherwise, purchase some readymade that will suit your space. If you have a boot dryer, place it in this area as well.
Coats and Jackets
Dripping jackets not only bring the outside mess in, but they can also make for a slippery entryway and damage wood floors. Restrain the disorder by having a hanging station immediately inside the door. If your entryway comes through the garage, a shoe and coat rack as you enter is a perfect way to keep the sloppy stuff outside of the house. Otherwise, use an indoor closet, a wall-mounted series of hooks, or a coat tree. If you have wood floors, protect it from the drips with a carpet underneath your hanging area.
Umbrellas
Depending on your space, there are many options for functional and fabulous umbrella stands. Not only will this help keep wetness from infiltrating the house, but it also ensures that you can find the umbrella the next time a downpour threatens your day. Many coat trees have an umbrella stand built-in. You could also use a large crock, urn, or vase that fits your style.
Skis, Ski Boots, and Snowboards
If winter sports are part of your seasonal norm, make sure you have a system in place to safely store your gear. Skis make great wall décor and hanging those keeps this large item from taking up space leaning against a wall. Make sure to find a wall stud and use proper hooks or hangers that are easy to use and convenient to access. If you have to climb over a freezer to hang the snowboard, it's unlikely you will be successful in staying organized.
If ski lodge isn't your theme, find a handy spot to hang them on the outside of the house or shed, or in the garage. Make sure there is ample space for all accessories so items can stay together and are easily located next time you hit the slopes.
Gloves and Scarves
As some of the first layers to come off, gloves and scarves need a suitable home in your plan, too. Your coat rack can easily double as scarf storage by hanging them with or next to coats. Create a space for your gloves with a small container or basket that won't be damaged by moisture when wet gloves are tossed in. This can sit on the top of your shoe racks or hang from a wall organization system.
Cloth bins add a homey touch to the space and can be used for smaller items as well as articles that need to be returned next time you leave the house. Just make sure that your baskets and bins don't become a catch-all. Use labels to clearly identify what belongs there.
Colder weather during the change of the seasons means more layers and winter toys. Make sure you're prepared before it gets here by creating a drop spot for all of your commonly-used items!