How to Paint a Garden Bench
3-8 hours

•

Intermediate

•

50-100
Cloth, paint tarp, old sheet, or newspapers
Stiff-bristled scrub brush
Bucket
Soap
Water
Medium-grade and fine-grade sandpaper or an electric sander
Exterior wood primer
Paintbrushes or paint rollers
Exterior wood paint
Paint stirrer
Paint tray
Weather-proof sealant
Gloss finish
Oil-based wood preservative
Cloth, paint tarp, old sheet, or newspapers
Stiff-bristled scrub brush
Bucket
Soap
Water
Medium-grade and fine-grade sandpaper or an electric sander
Exterior wood primer
Paintbrushes or paint rollers
Exterior wood paint
Paint stirrer
Paint tray
Weather-proof sealant
Gloss finish
Oil-based wood preservative
Whether you already have a bench or are eyeing a find at a flea market, taking the time to refresh the look or add an extra layer of protection will net you an appealing and functional element for your landscape. When considering how to paint a garden bench, you'll need to take several things into account.
Painting a metal bench is slightly different than a wood bench, for example. However, the process is basically the same. You'll start with prepping the surface, then you'll apply the appropriate finishes before moving your new gem into place in the yard.
1. Get to Know Your Bench
A garden bench can be a great asset to any garden, whether it is lavish or very small.
They come in various sizes and materials such as wood or aluminum, and they can be placed near flower beds, shrubs, grass, in the shade, or wherever you wish to provide a small seating area where you can relax surrounded by nature.
You might even have a built-in garden bench attached to your deck or outbuilding, such as a shed or gazebo. Other common surface materials include brick, concrete, or resin. Whatever the situation, identifying what the bench is made of is the first step in the process.
Wood benches accept refinishing easily. If you haven't yet purchased or built a bench, wood is the easiest to work with.
However, metal benches will last much longer than wood with proper care so it's worth the effort to protect them with a new coat of paint as they age and weather.
2. Gather Supplies
Brushes, painter's tape, rollers, sandpaper, and other materials needed to create a painted garden bench can be found at most home improvement and hardware stores. You can also head into a paint store.
Either way, explain your project and ask the professionals for suggestions on the best products for the job.
Make sure you have a complete material list to avoid additional runs to the store. If you want to wait on your paint selection, get everything else you need to prep the surface. You can always place an order online once you have a supply list together, if that works better for your situation.
3. Cover Area
Spread a cloth, old sheet, paint tarp, or newspapers on a hard, flat surface where you will be painting the bench. If your bench is already set and cannot be moved for some reason, cover the area below it instead.
If you'll be using spray paint, provide adequate coverage beyond the actual bench to anywhere the spray might drift. Hint: Avoid using spray paint when there is a breeze or move to a protected space with adequate ventilation.
4. Clean the Surface
Use a stiff-bristled brush to scrub away any dry dirt, dust, or debris from the wood. Once the loose grime has been taken care of, go over it again with the brush soaked in soap and water. You can also purchase a wood cleaner to complete this task.
If your wood bench wasn't sealed or painted previously, it's possible that the surface has since accumulated mold or mildew as a result of exposure to the elements.
In this case, add bleach to a bucket of water and use it to scrub down the wood surface again to rid it of any spores. Allow the wood to dry afterward.
Mold and mildew are less of a problem on metal surfaces, so a good cleaning should do the trick. Allow it to dry completely.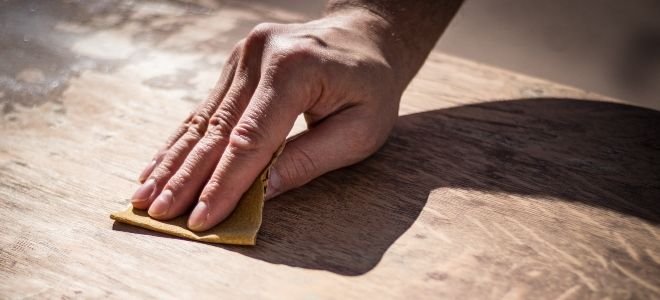 5. Sand
With a piece of rough-grade sandpaper, start sanding away any old paint or finish until it has disappeared, or sand the natural wood until it starts to feel smoother.
Make sure all of the areas of the bench have been covered and that the wood is free of loose pieces like splinters and all flaking paint is eliminated.
Wipe off excess dust after using the rough sandpaper, and then go over the bench again, but this time using fine-grade sandpaper until the bench is soft and smooth to the touch. Use the tack cloth one more time to clear away any dust.
If you're unfamiliar with sandpaper grit, look for a number on the packaging. Lower numbers such as 50 or 60, are a coarse-grit sandpaper that are effective in removing caked on materials. Higher grits, such as 150 or 220, offer a finer sand to create a smooth surface.
The goal of sanding is not only to remove layers of paint and stain, but to prep the surface to adhere to the new paint. If you simply apply paint over the old surface without proper preparation, your efforts will be wasted since it will result in peeling, bubbling, or flaking paint.
You can use any type of power sander, manual sanding block, or simply a partial sheet of sandpaper to complete the job. In reality you may need a combination of power and manual tools to reach all surfaces of your garden bench.
6. Choose Paint
There are several different routes you can choose to go with paint for your garden bench. Using an aerosol paint, opposed to brushed paint, is usually faster and creates a more even finish, free of brush strokes.
Priming is a requirement for painting bare wood, and spray paint can often eliminate this step with a two-in-one primer/paint option. Many traditional paints now also offer a primer and paint combination as well.
On the other hand, brush-on paint will usually give you more color options to choose from, so which type of paint you use simply depends on your personal preference.
Whether you buy brush-on or spray-on paint, always make sure you select a type that is meant for exterior surfaces and identify whether the paint you choose is appropriate for the wood or metal surface of your project.
This paint will be subjected to whatever your weather throws at it, so getting a material that can handle it is crucial if you don't want to be repainting this bench again soon.
7. Apply Primer
Primer is not optional when painting bare wood. Wood is porous, which makes it difficult for a top coat to adhere and dry properly. Before you apply it, make sure your primer is meant for exterior wood surfaces as well.
Hold the nozzle of a spray paint can at least six inches away from the bench. Starting with the backboard first and moving to the seat, the opposite side, and finally the underside, go over the surface in slow, steady passes to make sure everything is evenly coated.
Apply a few light coats rather than one thick coat. Layering primer gives it something to stick to and avoid drips.
Pay special attention to any nooks and crannies, lightly spot painting as needed. Let the primer dry for the allotted time specified on the packaging.
For brush-on paint, dip your brush into the paint and coat the bench surface with even strokes to avoid creating brush lines. Follow the same painting pattern as you would if you were using spray paint.
If you've purchased a two-in-one primer/paint option, you can skip this step.
8. Add Top Coat
Mix your paint thoroughly or have it shaken at the store. Pour some into a paint tray, or if you decide to use spray paint, shake the can for a few minutes to make sure it has mixed.
Apply the top coat in the same manner as the primer, allowing it to dry between coats as needed. Again use thin coats. Once you're finished, let the paint dry for at least 12 hours. Check that the results are satisfactory before giving the paint another full day to dry.
9. Go Over with a Weather-proof Sealer
Even though your paint should be resistant to weather, it's still a good idea to reinforce it just in case. Purchase a weather-proof sealer at your local home improvement store and spray it or brush it over your entire bench.
Be careful that you don't miss areas, otherwise your paint may wear out in some areas long before others.
Once the sealant has dried, you can follow it up with a coat of clear gloss if you want the bench to be shiny.
10. Return the Bench and Clean Up
Let the bench dry completely before you move it to its permanent home in your garden. Then, you can clean up the drop cloths or newspaper in your painting area, disposing of them properly.
If you didn't move your bench to paint it, then simply go straight into clean-up.
11. Maintain It
A wood bench can last many years as long as it is kept up. It should be well oiled with an oil-based wood preserver yearly to keep the wood from drying out, or more often in dryer climates.
For a metal bench, cover during the winter months to reduce the risk of rust, and refurbish the surface as needed to keep it protected.
FAQ About How to Paint a Garden Bench
Still have questions? Below we cover a range of common queries on the topic.
What Kind of Paint Do You Use on an Outdoor Bench?
There are countless products suitable for outdoor furniture use. Choose stains and paints that are marked for outdoor use and be sure to read the label to ensure it is intended for the material of your bench.
Wood and metal paints are ubiquitous. Paints to effectively cover plastic or resin are harder to find.
How Do You Paint an Old Outdoor Bench?
If you've built a bench DIY style, painting it merely requires starting at the primer step. However, if you're refurbishing a weathered bench, be sure to sand it down to the original surface of metal or wood. If needed, address rotten boards or metal pieces that are rusted through.
How Do You Seal a Painted Outdoor Bench?
You will want to use a polyurethane sealer over the surface of your outdoor bench. This material is manufactured to endure the hardships of wind, rain, snow, and temperature fluctuations.
Its job is to protect the surface of the paint below, so it's an essential step in the preservation of your hard work, and your bench. Polyurethane can be applied via a spray can or with a brush or roller.
Do You Have to Sand a Bench before Painting?
Not only do you need to sand your bench before painting, but you'll also need to do a light sanding in between coats of paints, stain, or polyurethane.
Once each layer is dry, lightly sand with a fine-grit sandpaper. Then wipe the surface with tack cloth (available in the paint department) to remove any dust particles before applying the next coat.
What Is the Best Finish for an Outdoor Bench?
As mentioned, you'll want to finish your project with a polyurethane. However, there are many types to choose from.
RUST-OLEUM Outdoor Clear Semi Gloss Finish is an example of an easy-to-use spray that comes in gloss, semi-gloss, or satin. It's water-based, which means it can be used over water-based paints (rather than oil based), and it's easy to clean up.
Rustoleum is a trusted brand for many types of challenging surfaces including metal and plastic.
You may also see Rustoleum listed as Varathane, such as in this Ultimate Spar Urethane that is intended for wood surfaces and offers UV protection without yellowing over time.
Minwax is another notable name in the outdoor polyurethane category. The Minwax Helmsman Water Based Spar Urethane is one example.
The product comes in a spray, one quart, or one gallon in several options of finishes. This clear finish adds year-round protection to wood projects inside and outside the house. Look for other Minwax/Helmsman products to suit your specific needs.
Painting a garden bench is the perfect way to add color, personality, or simply a layer of protection to your outdoor space. Choose products carefully and follow these steps to get the desired results.
We didn't specifically address it here, but you can also learn How to Paint a Concrete Bench. If you're looking for a long-lasting DIY option, check out Build a Garden Bench to Last a Lifetime.