How to Set Up Your Own At-Home Pottery Studio
10+

•

Intermediate

•

2000+
Interested in learning how to throw your own pots and get started in the world of pottery? You're not alone. You may be wondering, how do I start making my own pottery? How much does it cost to start a pottery studio? Is pottery hard to learn?
Pottery is a fun, rewarding hobby and potentially even a career. If you've got questions about how to enter the world of pottery, we're here to answer them.
Getting Started: How Much Does It Cost to Start a Pottery Studio?
Starting a pottery studio can feel daunting, there's so much to learn and purchase. If you are looking to start a physical studio as a business, you'll likely be well versed in the world of pottery and have some good experience with studios.
That being said, even if you know a ton about pottery and have a good amount of studio experience, opening up your own studio can set you back around a hundred thousand dollars. With highly skilled and trained potters making around fifty to sixty thousand dollars a year on average, opening a studio is a huge investment.
If you're not wanting to open a physical studio as a business, you may be wondering about the costs associated with having your own home pottery studio. Whether for a hobby or business, it is less expensive to start a home studio.
Less expensive, but not cheap. An at-home pottery studio with a wheel, a kiln, and a few other basics can still cost more than ten thousand dollars.
Pottery Studio Supplies
To get started in your studio, you don't have to have everything all at once. You can start with the basics and begin to expand as you save for your next big purchase.
The first supply you'll need is a space to set everything up. Potter equipment isn't small, and it can't be conveniently pulled out and tucked away every other day when you get the urge to throw a pot.
If you plan on having a kiln in the space, you also need to plan for a kiln itself to take up space, and for the breathing room, a kiln needs to function safely. Each model is different, but it can be up to a few feet.
You are also going to need a pottery wheel. The wheel is the device you see in all of the pottery videos online. It's the place where you actually form the pottery. A wheel is likely to cost you around two thousand dollars but can become much more expensive the higher end you go.
You can't make most types of pottery without a wheel. There are some table-top wheels on the market that do a good job, and those cost anywhere from five hundred dollars to fifteen hundred dollars.
You are also going to need a kiln. A kiln is the place pottery gets fired and is hardened. Kilns are not cheap, and if you're just starting out, there may be a better option than buying one.
We have a local paint studio, similar to Color Me Mine, where people can come paint ceramics and have them fired after the paint session. This particular studio lets local artists pay a small fee to use the business kiln.
Sure it's not ideal, but it's a very quick, easy way to save money. Contact local art stores to see if they'd be willing to make a little extra money renting out their kiln.
To create pottery you are also going to need lots of clay, easy access to a sink with a sink trap, and tools. You're also going to need glazes, an extruder, and a slab roller.
You may also wish that you owned a handful of power tools as these tools help with pottery and a pottery studio in a number of ways.
Can I Teach Myself Pottery?
Pottery isn't like other skills that you can master on your own. If you want to learn to draw, that is something you can start learning about and teaching yourself, relatively easily. With pottery, it's a little harder.
Because you need lots of tools and special machinery to throw pots, it's not something you can just pick up one afternoon. That being said, there are lots about pottery you can teach yourself or learn through online resources or classes.
If you want to get familiar with pottery, start by experimenting with clay that you can mold without a wheel. This may help you grasp some pottery basics and learn more about different types of clay.
Watching pottery videos and instructional tutorials online is also a good way to start learning the ins and outs of pottery, and you can do this before you ever get your hands on a pottery wheel.
While it is important that you have time to practice the new skill you are learning, there is a lot you can teach yourself before you have to make a sizable financial investment into pottery-throwing equipment.
We would definitely recommend learning basic pottery terms and the names of common pottery tools, as well as common pottery styles. This language will help your formal pottery training be more effective.
Can I Make Money Selling Pottery?
Yes, you can make money selling pottery. When you think of pottery, you may just think of pots and vases, but you can craft a number of things on a pottery wheel.
If you love making clay bowls or plates, lean into it. Want to make custom clay beads? Go for it. If you are going to invest a ton of time and money into making and selling pottery, you need to start by making and selling something that you love.
Nowadays, a large part of getting your pottery sold has to do with your online presence and your marketing. You can certainly still head out to craft fairs and sell your collection, or you can work with resellers to make custom products for their shop.
Regardless of how or what you want to sell, though, you need to be able to market yourself. And you'll likely need to market online, unless you live in an area with a high demand for pottery.
Stating an Esty shop or an online store is a great start. Then work on putting yourself out there on social media, sharing your creations. Not every form of social media will work for everyone selling pottery, and that's okay.
Pick the social media platform that works best for you. The ones you like using. The ones where your ideal client is looking for your product.
It can be frustrating but take time to learn to be a content creator as well as a potter. Creating genuine content online will help your clients connect with you and your product.
There's a steep learning curve when it comes to creating content online that helps drive business to your site, but don't give up. You've got this.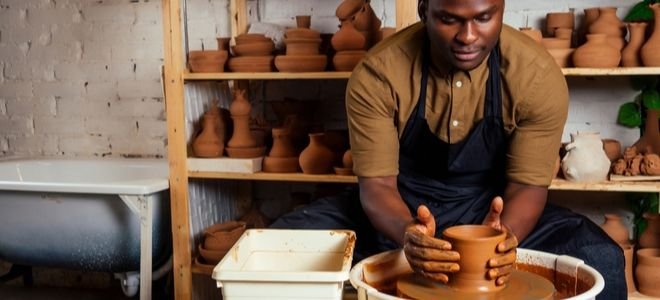 Is Pottery Right for You?
Wondering if pottery is right for you? It's hard to know because it's not something like painting where you can drop $40 on supplies and see if it's a good fit. Pottery is expensive, and there is a cost barrier to cross to even try it out.
So how do you know if pottery is worth investing in as a hobby or job?
We recommend taking a pottery class or two from a local potter. Sometimes these classes are offered through the city, sometimes private studios will offer the classes.
Taking three or four pottery classes will cost you a few hundred dollars, but will be significantly cheaper than trying to buy a pottery wheel and teaching yourself. The classes will help you get a feel for pottery, literally, and help you decide if it's something you'd like to pursue.
After you've taken classes and discovered a passion for pottery, try to find a job or side-gig that works with pottery at a studio. This will give you access to pottery supplies and tools, bring in a little change, and help your skills grow.
As you become a more competent and accomplished potter, you'll be able to see if opening your own home studio is worth the sizable investment.
Alternatives to a Home Pottery Studio
If a home pottery studio is out of the question, you have a few options to keep pottery in your life. One, you can take classes. Classes aren't just for beginners, and they can be a cost-effective way to scratch the pottery itch.
Two, check out local art co-working spaces and see if there is a pottery station you could play to use or rent out for a specific period of time. These spaces are more common than you might imagine in larger cities.
If you can't find an art-share place that has a pottery wheel, consider asking a local studio if you could rent time or space from them. Smaller studios may be inclined to take the deal to make a little extra money, and you'd save big on pottery supplies.
Lastly, if you and a group of fellow pottery lovers are in a position to do so, consider going in on a shared pottery space, together. Make sure to draw up a contract and keep everything above board, but co-owning might be a good move for you.
As a co-owner of a pottery space, make sure the rules and expected behaviors are clearly laid out for all parties involved to help avoid conflict down the road.
Paint Your Own Pottery Studio
Perhaps you stumbled upon this article after a casual search about pottery. Maybe you're not ready to jump all the way in. Maybe you're not even ready to take a pottery class yet.
If that's you, a paint-your-own pottery studio might be exactly what you're looking for. Most large and even medium-sized cities have some form of these studios, and for twenty to fifty dollars, you can have a fun evening out painting your own pottery.
At these studios, you pay a studio fee to use the paints and facility, and then you pay for the ceramic item you want to paint. These items range from fairly cheap to really expensive.
After you select your piece, you have a chunk of time to paint and decorate your pottery. When you're done, you leave it with the studio to fire it for you.
Then, in a week or so, you come back and pick up your creation.
It's definitely not the same as throwing pots or taking pottery lessons, but you just want a fun evening out with friends where you get to do something creative and interesting—this is definitely the move for you.
Gather up a group of friends and make a night of it, it's definitely something craft-inclined people should do at least once.
At-Home Pottery for Kids
If you want to involve little learners in the pottery process, start with air dry clay. Air dry clay can be purchased at most stores that sell crafts and is inexpensive.
Kids are great visual learners who are uninhibited by doing things perfectly—they jump right in and explore. Take a page out of their book and join in on the fun. Explore how the clay works and what you can build and shape with this inexpensive craft supply.
You can make it a teaching moment. You can just have fun. It doesn't matter.
After you've had some fun with air dry clay, try making pots or other fun projects with oven-bake clay. Oven bake clay is a little more expensive and can be purchased at most craft stores.
Depending on the skill level and interest of the little learners, you can tailor the craft time to them and their interests. If they love dinosaurs, make a dinosaur. If they're an aspiring potter, help them make a little pinch pot.
This is a great way to introduce the idea of pottery into the home and to spend some quality time, away from screens, with everyone in the home. Clay is fun and engaging.
Refurbishing, rediscovering, upcycling, and reinventing—all things Maddison can do with a pair of scissors or a can of paint. A Brigham Young University grad with a degree in English and communications, Maddison has worked with small and large businesses alike, developing creative marketing strategies. Maddison is also a seasoned photographer whose work has been featured on ESPN and in several magazines in the US. After several years as a sports photojournalist, Maddison primarily focuses on product photography and capturing families, newborns, and kids with her camera.  As a DIY writer of 5+ years, with a decade more of experience, Maddison has a knack for turning trash into treasure and convincing her friends it came from Anthropologie. In the last few years, Maddison has begun consulting as an interior design specialist, working with corporate spaces and homes.