How to Use Detergent in Your Power Washer
To ensure our content is always up-to-date with current information, best practices, and professional advice, articles are routinely reviewed by industry experts with years of hands-on experience.

Reviewed by

on Feb 21, 2020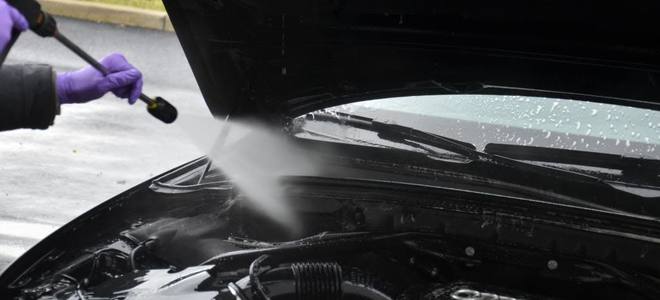 1-8 hours

•

Beginner

•

25-400
If you want to use a power washer detergent when cleaning down the sides of your home, you should know how to properly handle the detergent to get the most out of it. Some kinds of power washer detergent can be very costly, so making sure that you know how to use as little as possible can make a great difference when you are about to clean your siding. Knowing when to add the detergent for best effect can save you time and money, and you should also be ready to handle all of the different kinds of cleaning situations, which you might find when using a pressure washer.
Get Rid of the Dirt First
Before you start adding your detergent to the pressure washer, get rid of as much of the dirt and debris from your siding as you can. It might sound counter-intuitive to remove all of the dirt before the cleaner is put into the system, but getting rid of obvious debris can help the pressure washer detergent to get right into the real problem stains and marks which have accumulated on your pressure washer. Use the washer to spray off loose pieces of mud, twigs or leaf litter before starting.
Add the Right Kind of Detergent
As well as checking that your soap is compatible with a power washer, you should also ensure that it is the right kind for your needs. Some detergents perform better at high pressures than others, so decide how high you want the washer to go, and then look for a soap that fits this amount of pressure. Before spraying over the side of the house, test a small area to make sure that the surface of your siding isn't damaged. This is particularly important if you have vinyl siding, as this is easily damaged by applying too much water.
Add Detergent to the Cleaning Tank
Most pressure washers have a tank that is specially designed to be used by detergents. The pressure washer draws up liquid soap from inside the tank and then mixes it with the water when it reaches the end of the nozzle. You can easily use this kind of tank to mix different detergents together, to get a more powerful wash for your sidings.
Add Detergent to Guns and Brushes
Some types of pressure washer attachments allow you to place the soap directly onto them so that you can get a sharper clean for your sidings. The pressure washer brush is a prime example of this, and you should be able to apply the liquid detergent directly onto the bristles, allowing the soap to work more deeply into fixed-on stains and discolorations. The pressure washer gun can sometimes be found with a detergent attachment, which works rather like the tank. Here you can fit your liquid soap bottle onto the side of the gun, and apply detergent as you wish.