Installing Molding on Stairs
To ensure our content is always up-to-date with current information, best practices, and professional advice, articles are routinely reviewed by industry experts with years of hands-on experience.

Reviewed by

on Jun 26, 2023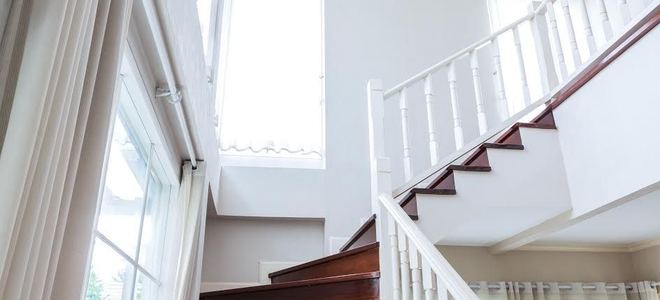 8-12 hours

•

Advanced

•

400-900
Pencil
Painter's tape
Ruler/straight edge
Drop cloth / plastic sheeting
Molding
Measuring tape
Saw
Nails / nail gun
Wood glue
Sand paper
Primer
Wood filler
Paint/Stain
Pencil
Painter's tape
Ruler/straight edge
Drop cloth / plastic sheeting
Molding
Measuring tape
Saw
Nails / nail gun
Wood glue
Sand paper
Primer
Wood filler
Paint/Stain
Molding on a staircase adds definition and distinction to your living space. molding, also sometimes referred to as trim, gives your stairway an elegance that turns it into a true focal point. Stairs are an architectural feature, so why not feature them with gorgeous molding? Here's how.
Draw Your Plan
Start by grabbing a pencil and a roll of painter's tape that won't damage your walls. With a ruler or straight edge, draw out exactly where your molding will go. Usually, it will rise 24 to 36 inches above the staircase, following the upward angle of the stairs. Only draw straight lines to follow the angles of the staircase because you can only place molding in straight lines. Remember that straight pieces can be cut to suit your stairs, and draw your lines this way.
Once the lines are drawn and you're satisfied, mark them out with painter's tape so they're even more visible. Remember to keep your lines perfectly straight. The more time you take with your pencil and tape markings, the more beautiful your molding will be when this DIY project is complete.
Protect Your Stairs
You're going to be doing a lot of work on and around your staircase while placing your molding, and you don't want to wind up with another DIY project on your hands before you're through. So before you go any further, protect your stairs. Cover the stairs with plastic, paper, or fabric to protect them from wood shavings, paint, and other materials you'll be working with. Place baby and/or pet gates at the top and bottom of the staircase to prevent family members from using the stairs carelessly. Use caution and move with care while working on the staircase.
Build Your Frame
Installing molding on stairs is actually a bit of a misnamed DIY project. You're actually applying the molding directly to the wall—not to the staircase itself. So, after you have everything marked out on the wall, you can place your frame for the molding.
Use ½-inch plywood boards and nail them over the lines you marked on the wall. You'll need long boards following the top line of the molding, and several vertical boards rising from the stairs up to the top line. Cut the boards to the exact size you need after measuring the lines you marked on the wall, or have the boards cut for you at the hardware or home improvement store.
Place the vertical boards at each stud on the wall and nail them in place. This framework will give your molding the support it needs, and give you something to attach the molding to.
Use a nail gun to make the work go more quickly during installation and an electric saw while cutting boards to get the job done more efficiently. When using power tools, remember to wear safety glasses to protect your eyes.
Place Your Molding
Measure again, and cut molding to the exact sizes you will need so you can secure them to the wall. Before you permanently place your molding, take the pieces, and place them against the wall to get an idea of how the molding will look and make sure the sizes are exact. Once you're satisfied, cover the molding with wood glue and firmly press it to your frame before nailing it in place.
Sand down your molding if you're using raw wood, then prime and paint or stain as desired. If you're using finished pieces, clean off the molding after installation.
Clean up the Design
Patch up nail holes on the molding with wood filler to give your stairway trim a clean, finished look. Use sandpaper to sand down the filler after it dries, and touch up your paint or stain as needed.
Installing molding on stairs isn't difficult, but it can be time-consuming. Plan to have the weekend or a few days free for this project, and when you're done you'll have something that looks elegant and expensive that will get your home compliments for years and years to come.