Jumping into the Exciting World of Trampoline Ownership
If you're ready to embark on a new adventure with friends and family, a trampoline may be precisely what you're looking for. These popular pieces of play equipment are a fun addition to any backyard.
Picking a trampoline and perfectly placing it in your yard is half the fun. The other half? Jumping for hours on end.
Picking the Perfect Trampoline
Picking the perfect trampoline combines quite a few factors. You'll need to consider price, size, and safety features.
When it comes to the price of a trampoline, you really run the gamut. Trampolines range in price from just around a hundred dollars to well over two thousand dollars. And while not all trampolines are created equal, it shouldn't be hard to find one that fits your budget.
As a general rule, a good trampoline will cost you a few hundred dollars depending on the size and features. Trampolines spend all their time outside in weather that can wear them down, and a cheap trampoline will deteriorate a lot faster than a slightly higher-quality one.
You'll also need to consider the cost of safety features, like a net, when calculating how much you're going to spend on a trampoline.
Before you start searching online or in-store for a trampoline, set a budget. When you set that budget, also make a list of features that are important for you to have in a trampoline. This will help you make smarter choices when you go to purchase your tramp.
When it comes to the size of the trampoline, start by measuring your space and seeing what you can actually fit. Fourteen feet looks a lot smaller online than it does in trampoline form, filling up a small backyard.
If you can, go outside and measure your backyard and try to envision a circle the size of the trampoline you're looking to buy. This simple exercise will help you get a better idea of just how much space you're willing to space for a trampoline.
The number of jumpers you'll have using the trampoline also plays into how large of a trampoline you'll want to purchase. If you'll just have one or two people jumping, a smaller trampoline will do just fine.
Is a 12-foot trampoline big enough? For most families, yes. Is a 14-foot trampoline big enough? The answer? Also, for most families, yes.
Once you know the size and price range of the trampoline that you want to purchase, it's time to start shopping.
Places to Shop for a Trampoline
Shopping for a trampoline can be done online or in person. Shopping online eliminates the hassle of loading a trampoline up into your car and finding a way to get it home, but shopping in sore may give you a better look at the trampoline in real life.
Regardless of how you shop, here are a few places where you should shop. Dick's Sporting Goods, Amazon, Walmart, Sam's Club, and Costco all offer trampolines and regularly run deals.
Waiting to purchase during a big shopping holiday like Memorial Day or Black Friday may help you get the best deal on your new backyard accessory. End-of-season sales may also help you save a little money.
ACON sells more high-end trampolines that you may want to look into if you're okay spending over a thousand dollars on a fancy trampoline. Sales are a rarer occurrence here.
Shopping places like Facebook Marketplace for a secondhand trampoline is not a bad idea. This shopping method can save you a ton of money but does come with a warning.
Make sure that your secondhand trampoline meets all of the safety requirements before purchasing. Check and make sure all of the springs and bolts are there, and that the padding is fully intact.
When buying secondhand, ask the previous owner lots of questions so you can gauge how safe the trampoline is. Does the trampoline have all its original parts?
Has it ever been damaged by severe weather? Has anyone ever had an accident on this trampoline that caused damage to the structure itself? What has been done to care for and maintain the trampoline?
Asking these questions should give you a good idea of if the trampoline is a smart buy.
Adding a Trampoline to Your Yard
Incorporating your trampoline can be a fun challenge that causes you to get creative with your yard design. The first thing you need to decide is if the trampoline is going into the ground or if it's staying above ground.
The benefits of an in-ground trampoline are the fact that it's safer to have the trampoline in the ground, and it's easier to integrate an in-ground tramp with landscaping and overall yard.
Adding a trampoline in-ground is more expensive because you do need to dig a large hole for the trampoline. Whether you DIY the dig or pay a landscaping company, it can be pricey.
Above-ground trampolines can be moved, which is necessary if you don't want to kill your grass, and they are less permanent. if you only plan on having a trampoline for a few years, you may not want to dig a large hole that you'll need to fill later.
After you determine whether your trampoline is going into the ground or not, you need to pick a spot in the yard for the trampoline to live. Aesthetics are important, but safety comes first.
Keep your trampoline away from other large items in the yard or hard surfaces, even if you have a net on the trampoline. Stay away from patios, decks, trees, fire pits, and other play equipment.
If you plan on landscaping around your trampoline, keep it safe and simple. Create a pebble or pea gravel path to the trampoline and use low, soft bushes and plants near the trampoline. If someone falls, you want the landing to be soft, not prickly or pokey.
Don't place your trampoline on a cement pad, instead, make sure to landscape with soft grass around the jump zone to keep kids safe.
If you have a pet you keep in the yard, it's also important to think about how this addition will affect them. When possible, train your pets to steer clear of the trampoline, and landscape your trampoline into the yard away from your pet's pen our house.
The Benefits of a Trampoline
Trampolines are lots of fun for kids and adults of all ages. These bouncy wonders can fill up afternoons and evenings with engaging activity that's not on a screen.
Creative play is essential for childhood development, and time away from screens on a trampoline is a great way for imagination play and growth.
And while kids are jumping, their coordination and motor skills are improving. Balance improves over time as you jump too.
The benefits of nature cannot be overlooked, and because your trampoline is outside, you and your kids are getting outside too, which is an added bonus to the trampoline fun.
Trampolines can also act as an activity that brings family and friends together. Building relationships happen over time, slowly, and adding fun to relationship building is a great way to share experiences and build connection.
And, on the flip side, trampolines are great for bouncing alone. If you've got a kid struggling with self-entertaining and solo play, an engaging activity like bouncing on a tramp can be really beneficial.
Outside of all of the fun they bring, trampolines can genuinely be used as a learning tool.
Engaging Exercise
Will a trampoline help me stay healthy? Can you lose belly fat by jumping on a trampoline? Will a trampoline help kids burn energy? Are trampolines a good way to exercise? The answer to all of those questions is yes.
Owning a trampoline gives you unlimited access to a fun way to exercise. Jumping is a leg, core, and cardio workout that's fun, which always makes working out easier.
If you have little kids who are in desperate need of energy burning, a trampoline is also good for that. And while your littles are burning energy, they're also strengthening their muscles and lungs.
If you want the benefits of trampoline exercise and don't want to spend money on a large trampoline in your yard, get a small, exercise trampoline. These trampolines are effective and inexpensive.
You can get an exercise trampoline new or, for even less, you can purchase a used one. Just give it a little disinfecting and it'll work like new. These trampolines are available for adults and kids.
We have a small exercise trampoline that we use all year round to shake up our regular workouts and that we let the little ones use during the winter when we need them to bounce their wiggles out before bed. It's a win-win.
A Note on Safety
Trampolines are tons of fun, but they can also be dangerous.
It's important to talk to your kids, or anyone jumping on the trampoline, about trampoline safety. Accidents happen, but those accidents are more frequent when kids (or adults) get careless and caught up in the fun of bouncing on a trampoline.
Decide now which games will and won't be allowed on your trampoline, and set clear boundaries with anyone who wants to jump. Not setting those rules early on could lead to anything from a sprained ankle or broken leg to a more severe head injury or concussion.
Never cover your trampoline with water or soapy water as a summer cool-down activity. It's fun in theory, but very slippery and dangerous.
To keep your kids, and your neighbor kids, safe, we recommend using a safety net for the trampoline, as well as a net made specifically for the size of the trampoline you have. It's also important to always supervise trampoline time, even for older kids.
Another way to keep all jumpers safe is to limit the number of people allowed to jump at once. This minimized the risk of jumping and smacking into one another.
It's also a good idea to place your trampoline on the ground for safety measures. The closer to the ground you are as you bounce, the fewer feet you have to fall.
Jumping isn't an activity for all ages. The Mayo Clinic recommends no jumpers under the age of six. If you do choose to allow little jumpers, make sure that they are jumping alone, or only with kids their age.
While it's lots of fun to jump with big brother, he may not know just how far he can bounce a three-year-old.
Having a first-aid kit on hand and certification in some basic first aid skills, like CPR is a good idea in general, but especially if you have a trampoline.
A Legal Note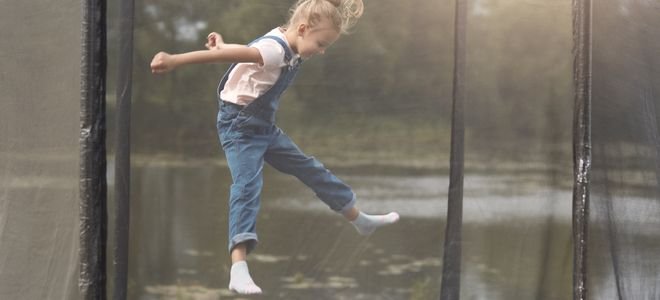 Lastly, and sadly, there's a legal aspect to owning a trampoline that has to be addressed. Even when you take safety precautions, you could still be held liable for trampoline-related injury or death.
Especially when you allow jumpers outside of your immediate family, you open yourself up to a number of potential legal issues in the case of an accident or an emergency.
In the event of an accident, you could be charged with negligence, causation, or a number of other things by an extended family member or neighbor.
It's not a pretty side of owning a trampoline, and it certainly isn't fun to think about, but it's critical that you are aware of the legal implication of owning a trampoline and that you take a number of safety precautions.
In conjunction with the safety tips, from a legal perspective, there are a few additional safeguards to put in place to keep everyone safe and bouncing happily.
Don't use a ladder to gain access to the trampoline because this could potentially grant access to a young child without supervision.
Keep the trampoline away from other features in the yard like playgrounds or trees, and make sure the trampoline is secure.
It's also critical that you make sure the trampoline isn't missing any pieces and that parts are regularly replaced when they begin to break or rip.
Taking safety precautions will help keep everyone bouncing and having fun, and will help protect you legally. Having a trampoline is a ton of fun, and putting safety first will help you enjoy it more.