Kids Moving Home? Here are 9 Projects to Do Together
With many adult kids moving back with their parents these days, it's the perfect time to use the extra hands in the house to get some home improvement projects done.
1. Powerwash Your Walkway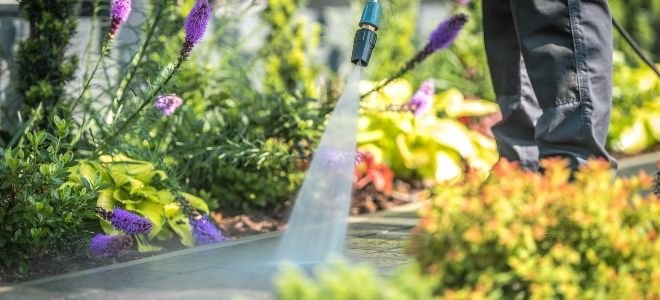 Before the fall covers your landscaping in leaves and the winter brings piles of snow, enlist in the help of your kiddos to give your walkways a good powerwash. Sidewalks, walkways, and driveways can regularly collect mildew and stains, and a powerwash is the best way to keep things fresh. To take it a step further, powerwash the sides of your house, your garage door, and your deck.
2. Create a Shiplap Accent Wall
Shiplap accent walls are all the rage, and you can install one easily and pretty cheaply with the help of your family members. Simply trim plywood boards into plants and then attach them to the wall in rows using construction adhesive and nails. Finish the job by painting the panels. With many hands, this project can be done in no time.
3. Polish Wood Floors
A somewhat mundane task that should be done at least once a year is polishing wood floors. This helps them to retain their shine and health, especially in high traffic areas that experience a lot of foot traffic. This results in the buildup of dirt and dust. Assign each family member a room and use a wood-safe polish to give your floors back their luster!
Update Hardware
A simple way to give your home or even just one room an easy and cheap refresh is to swap out the hardware. Drawer pulls, cabinet knobs, and even lightswitch plates can make a huge difference in the look and feel of a room. While switching these out certainly isn't difficult, it can be time consuming and somewhat tedious. With the help of your kids, change them out and you'll be done in a jiff and have a refreshed room to boot.
4. Paint Your Cabinets
Replacing kitchen cabinets is a cumbersome and not to mention costly project. If you're yearning to update the space but don't want to invest in new cabinets, there is an alternative. Paint your cabinets a new hue for a major upgrade at a lower price. This is an easy project to do with family members. Plus, there are so many options of colors and types of paints to use - your kitchen will feel completely transformed once the project is done.
5. Remove Popcorn Ceilings
Popcorn ceilings are common in older houses, but that doesn't mean that they're nice to look at. These can be not only unsightly, but they also are known for collecting dust and cobwebs more than other ceilings do. Pair up with your kiddo to use a drywall knife and a wet/dry vac to get rid of these in your home for an instant upgrade.
6. Declutter
With your kids home, it's the perfect time to declutter your space. Assign each family member a part of the house and give them some trash bags. Make piles of things to keep, things to sell, things to donate, and things to trash. Then, reorganize the things you're keeping and revel in the newfound space and cleanliness of your home.
7. Install Weather Stripping
Weather stripping your windows and doors is another mundane task that is easier done with more hands. This is also a great project to complete before the winter really hits, as it helps to keep warm air in your home and makes your furnace work less throughout the colder months.
8. Add Crown Molding
Crown molding can really transform a room, and with more hands, it's easy to install. This can be done in just a weekend with molding from a local hardware store. Put it around the ceiling, floors, windows, and doors for the complete look.
9. Install Smart Devices
It's no secret that the younger generation is usually pretty tech-savvy, so take advantage of your kids' presence and install some smart devices around your home. Smart lights, thermostats, light switches, and locks make your home more intuitive and are more eco-friendly to help the planet while helping to save you money.
They say many hands make light work, so take advantage of the extra company to get some stuff done around the house easily.