Kitchen Design Trends for 2019
To ensure our content is always up-to-date with current information, best practices, and professional advice, articles are routinely reviewed by industry experts with years of hands-on experience.

Reviewed by

on Nov 15, 2021
With a new year comes new kitchen trends: glossy is out, matte is in! All-white canvases, make way for some color! Minimalists, get fancy! Rather than a complete breakaway from last year's style, however, 2019 is all about adding personal touches to enhance ideas that are still going strong. Environmentally sustainable, hand-crafted, and organic materials are all the rage (and for good reason) but so is adding a little extra opulence to give your kitchen some "luxe" appeal. Here's seven kitchen design trends for 2019.
Rattan and Wicker Move Indoors
Kitchen stools, pendant shades, and wall art—oh my! Wicker and rattan have been slowly making their way into interior design as people opt for its hardy, long-lasting but comfortably folky, style. They're the perfect way to showcase what kitchen design in 2019 is all about—a mix of traditional style and natural materials in what can be used in a variety of ways. Don't be afraid to contrast these wooden pieces with marble, metal, or even other natural woods.
Matte Blacks
We saw a lot of black accents in the last couple of years, notably in faucets, tile, and handles, but rather than making a splash here and there, 2019 will see a much bolder use of the color for full-room vibes. Don't be afraid to have black pendants, black tile, and black cabinets in your kitchen. Why not? There's no overdoing it.
Show Off Your Wares
Ditching the crowded, cramped feeling of too many cabinets was also a trend we saw in 2018, and now it's being fully embraced. Originally used to create a sense of airiness and space, open shelves are now a place where homeowners can show off treasured knick-knacks or dishwares curated from years of traveling and collecting, or passed down from family. It's a way of keeping the minimalist vibe while adding some personal and artisan touches for eclectic warmth.
Tech Advances
You know you can get a talking fridge, but do you really want a talking fridge? 2019's technology in the kitchen will be subtler but smarter, allowing you to use your home's WIFI to make you an amazing espresso, or achieve the perfect lighting by waving your hand over a sleek, digital light switch. Less gadget-y and more functional, the idea is to bring peace and tranquility to a well-used room by not overpowering the area with tech, but having just the right amount to facilitate dinner parties and family breakfasts alike.
Vintage Appeal
All-white kitchens are also on the chopping block in 2019, but rather than redoing everything, consider adding something colorful to change the palette. A great way to achieve bright bursts of color is with vintage materials like vinyl chairs and stools, bright 70's inspired pendants and, of course, wall art. Kitschy florals, landscapes, and portraits in ornate frames can add throwback panache that used to be considered gaudy. If ironic prints aren't your style, consider painting lower cabinets a different color than the uppers, or change hardware to vintage styled brass or metal to bring some flair to an overly white-washed kitchen.
Natural Materials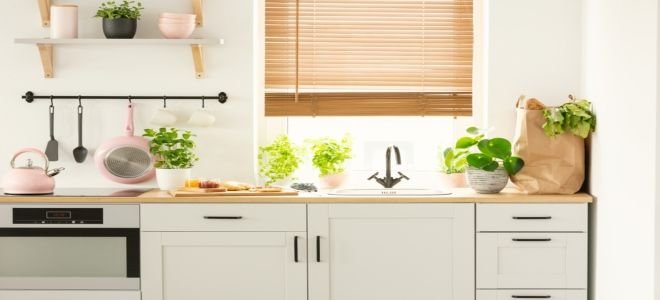 There's no question that natural, sustainable materials are leading the way for eco-conscious homeowners and designers alike in 2019. While not every natural material is environmentally sourced, nature is still the inspiration for the use of down-to-earth metals, woods, and concrete. Experiment with a polished or matte concrete floor or countertop mixed with natural wood cabinets and copper hardware for an absolutely stunning look. Handmade tiles are also making a big wave and can set your kitchen apart from the rest, while supporting original craft-makers.
Ditch (Or Cover Up!) Stainless Steel
With an ever-increasing use of interesting metals, stainless steel (greasy fingerprints and all) may be the thing you consider updating this year. Swap out the bland steel sink for an embossed one, and check out different kinds of pewter and gunmetal to replace boring hardware with an aged silver-y look that far surpasses stainless steel's appeal. Also trending is the choice to visually minimize appliances—yes, the industrial look is finally out. Induction cook tops rather than chunky stove tops are preferred for their sleek look, and slim range hoods versus largely visible steel ones are also on the rise, not to mention hiding appliances within cabinetry.
While these kitchen trends give us a ton of inspiring ways to start fresh, you don't have to swap everything (it wouldn't be environmentally friendly to do so, anyway!) to achieve greatness. These trendy touches can fill a blank slate, or bring new inspiration to old, but trusted ways. Natural materials and neutral palettes continue to dominate design plans, but don't be afraid to have a little fun, either.