How Does Mobile Connected Home Security Hold Up? We Try Out the Kodak CFH-V15
To ensure our content is always up-to-date with current information, best practices, and professional advice, articles are routinely reviewed by industry experts with years of hands-on experience.

Reviewed by

on Feb 21, 2023
Security cameras aren't just for your paranoid neighbors anymore. With wireless options that can connect directly to your smart phone, it's easier than ever to have an eye on your home when you're gone. Whether you want to be alerted to intruders, keep an eye on your dog, or make sure your kids aren't throwing a party, there are many reasons people are looking into heightened home security options.
We recently had the chance to try out the Kodak Video Monitor CFH-V15, a new addition to the increasing lineup of Kodak consumer-friendly security cameras. This is a larger model, with a more sturdy design, that isn't meant to be hidden but has a plethora of features that deserved a closer look.
This camera is meant to be fully integrated with your phone or computer, utilizing the iSecurity+ app. The set up was pretty easy, and the app guides you through simple steps so your camera can connect to your home's router. A nifty beta feature is the camera's ability to extend your Wi-Fi as well, so use that to your advantage if you have spotty reception around your property.
The app controls everything about the camera and can sync with multiple security cameras as well. Each one can be assigned a unique name and have their own settings. Upon opening the app, it synced fairly quickly to the camera and would show real time footage with a slight delay. Swiping the screen left or right, and up and down, would move the camera itself. Upon swiping, the camera would take a second or less to respond and move in the corresponding direction. The camera itself can pan 350 degrees and tilt 105 degrees.
In the same menu, we were able to save photos and videos directly to our phone's photo roll. The camera also has a microphone and speaker, so you can hear what's going on as well as talk through the camera to whoever is on the other side by holding down the microphone button.
The events section is easily the most useful feature of the app. The camera can be set to record events, which are any moments where it sees movement. Your phone can receive push notifications whenever something is recorded as well. The sensitivity can be adjusted and videos will be saved for 24 hours on the cloud. We had to fiddle with the sensitivity to get it just right for our area. We had placed it in a breezeway and light changes or wind rattling would trigger recordings until we got the sensitivity just right.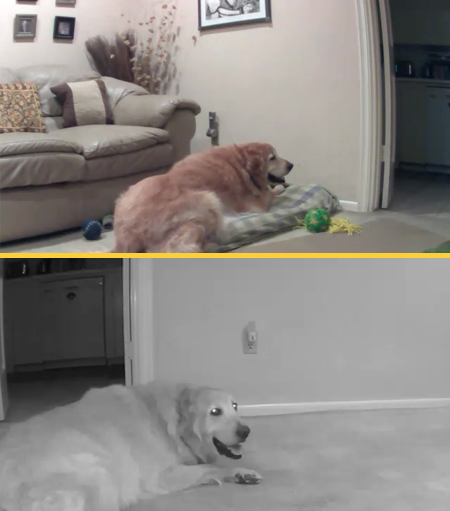 iSecurity+ offers a premium service for about $10 a month that will categorize events by type and can be told to only alert you for certain types of events. There are three categories: any motion, activities, or people. Opting in to this service will also extend your cloud storage to 14 days. The service was pretty good at categorizing the types of events recorded, there were a few times a person was categorized as an object, but they were usually partially blocked by furniture when it happened. The list of events can be filtered by type as well, so you can easily find what's important to you.
The app also allows you to share your camera with friends or family and view theirs, and can adjust a myriad of settings for the camera. These include resolution, frames per second, quality, rotation direction (in case you have mounted the camera sideways), and night vision preferences.
The actual camera's quality is quite good when compared to other devices and it is easy to tell exactly what is going on on the other end. Night vision utilizes IR filters to give you a surprisingly crisp black and white image at night and in low light situations. The camera can be set to automatically switch to IR when it needs to or you can control it. We felt the camera switched prematurely into night vision mode when left on auto, there were instances in the morning and evening when it would switch while color video was still fine. The auto setting also cannot adjust quickly, causing the video to nearly explode in white when a bright light was turned on in the room. This is a potential problem if an intruder were to point a flashlight at the camera, but as the odds of that happening are very slim (they'll be recorded long before they find the camera anyway), it's an easy problem to ignore.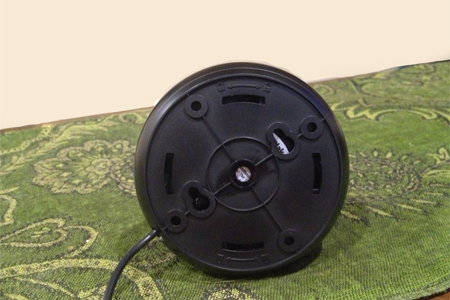 The camera has a removable base that houses the adapter's port. The camera will have to be plugged in, there are no battery options. The base also has holes to allow for mounting the device with the included screws and plastic caps, just remember to change the app settings so it knows the camera's angle is changed.
Our only concern was how the camera wasn't designed for outdoor use. However, it can be placed by a window or in a safe, covered location to circumvent this. We kept ours in an enclosed breezeway and saw no damage after a month of use, but this was also during warm, rain-free summer months.
Overall, the Kodak CFH-V15 is packed with a lot of solid features and conveniences for a home security camera. You can't beat the video quality and options either. The camera is currently priced at $130, which is a good value for this type of camera, and its sturdy design gives us the peace of mind that it will last for a long time.