Let's Go Rococo Loco!
When you see gothic architecture, you know it. It's heavy, serious, thick, and solid in design. The heavy Baroque style is excessive, gilded, over-the-top. But Rococo has always been a little harder to pin down.
This design style is light, elegant, and based on natural forms. This style feels more intimate and delicate. Designing in Rococo means knowing how to make an impact without being heavy-handed. Master some of the secrets of this style and make it your own.
What Is Rococo?
The rococo style reaches into all parts of the design. You can find this style in paintings, sculptures, and architecture. The style first appeared in Paris in the early 1700s and quickly caught on, spreading throughout France and into the rest of Europe.
The style was a direct opposition to the heavy, ornate Baroque style that was such a big part of the Palace of Versailles, where Louis XIV reigned. Several notable French painters, engravers, and interior designs balked against the excessive styles of the past to create an artistic expression that revolved around natural shapes.
The Rococo style was characterized by a color palette featuring pastels, soft ivory shades, and gold. Everything became thinner, lighter, and softer. Curves, frills, and embellishments give Rococo its distinct look.
Design, Rococo Style
Rococo style is defined by distinct characteristics. Learn how to spot these characteristics and designing in the Rococo style will get a whole lot easier.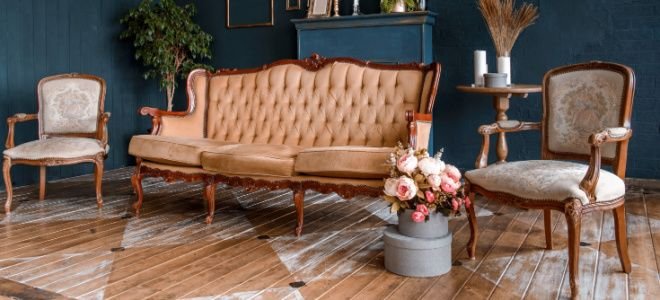 Rococo Furniture
Rococo furnishings are made with gently curving lines. Seriously, there are pretty much no straight lines on Rococo furniture. Furniture footed with claws and balls is classic Rococo design.
Look for furniture with a lot of curves and waving lines and little feet, and you'll be looking at Rococo-worthy furnishings. Chairs, couches, beds, benches, chaises and tables with little feet and lots of curves are found everywhere in Rococo interior design.
Rococo Walls
In Rococo, everything is decorated. Furniture is a work of art, floors are intricate with inlaid designs, and even the walls are elaborate and jaw-dropping. To really capture the Rococo style, add plaster designs to the walls and paint them gold.
Remember to use paint colors in soft pastel shades on the flat areas of the walls. Robin's egg blue, powder pink, cream, mint green, and soft yellow are all perfect Rococo colors.
The wall decorations in Rococo were often representative of floral forms and plant life. Think curving, winding vines, curled leaves, and blossoming flowers.
Rococo Floors
When it comes to flooring, Rococo likes it luxurious. Marble and wood are the flooring materials of choice for this style. Flooring is softened with intricate rugs, often depicting floral forms. Intricate, ornate inlaid designs are a staple of Rococo interior design.
Be careful with rug placement. You don't want to cover up any amazing inlay for the sake of softening floors with rugs. A couple of rugs will go a long way. The rest of the time, just let those floors do the talking.
Stylish Extras
Rococo style is all about the extras. When even the walls are embellished, the style you're looking at is definitely extra! Frescoes, molding, ceiling medallions, and little touches and details are everywhere in Rococo design.
Blank spaces are meant to be filled if you're following this design aesthetic. Decorative wall sconces, crystal chandeliers, and lots of mirrors are all hallmarks of this design.
Rococo Materials
To create Rococo style, start to love wood. This style is all about wood tones and wood types, whether painted or stained. Intricate floor inlays, gorgeously carved furniture, and wood elements of all types are all very true to Rococo design.
Crystal and marble accents are also a big part of Rococo design. This design is all about what's light, airy, and natural-looking. Take advantage of natural light, glass, and everything elegant and delicate. When you've done this, you've captured the art of Rococo style.