Lightweight and Compact: We Try Out the Bosch JS120 12V Jig Saw
To ensure our content is always up-to-date with current information, best practices, and professional advice, articles are routinely reviewed by industry experts with years of hands-on experience.

Reviewed by

on Apr 13, 2023
Jig saws are a staple in many tool collections as they are perfect for a variety of home improvement projects, large and small. We tried out the Bosch JS120 12V Jig Saw, a lightweight power tool that focuses on comfort and control.
Everything that went into this power tool was designed for convenience. The JS120 jig saw is extremely compact, weighing in at 3.3lbs (including battery) and only 9.4" long. With a 12V, 2Ah battery you should be able get an hour of cutting time from a single charge. We were easily able to maneuver it in small spaces and make quick cuts without worrying about having an outlet or extension cord nearby. When pushed to the limits, it did slow down on heavy duty loads, but it still got the job done. Just make sure you have a second battery ready to go on the charger and you're golden.
The barrel grip is comfortable and slimmer than other designs to keep fatigue at a minimum. The rubber gripping points on the body and top made it easy to maintain a steady grip during longer cuts. If you don't have much experience with a jig saw, this focus on an ergonomic design and grip makes for easily controlled cuts no matter your skill.
Of course a lighter power tool means more vibration. However, Bosch added an anti-vibration feature that worked amazingly. The JS120 jig saw is quiet and smooth when you cut. We tried everything from wood to metal and were impressed by the vibration dampening no matter what we threw at it.
The JS120 features a multi-directional blade clamp that allows for single-handed blade changes. To insert a blade, simply push it into the clamp until the lever snaps to the left. It has a sturdy grip to keep the blade in place against the roller. To remove the blade, push the lever back toward the right and it will auto-eject so you won't touch a hot blade.
In line with other jig saws, Bosch's tool features three adjustable orbital action settings. Using a switch on the side, you can toggle between more precise or aggressive cuts. On the backend of the unit is a variable speed dial that adjusts from 1,500 to 2,800 stokes per minute to accommodate dense or soft materials. Depending on the blade, the saw has a cutting depth of up to 2.75", which is normal. Plunge cuts were handled easily as well. To prevent overload and overheating on harder projects, the unit has Electronic Motor Protection and Electronic Cell Protection to keep everything running smoothly.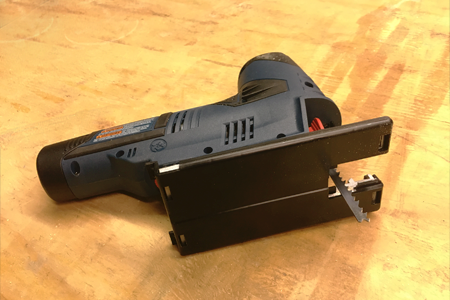 Also along the side is a sliding power switch. A great added safety feature is the use of a brake that stops the blade the moment it's switched off. Many saws will slowly turn off and, if you're not careful, damage things when set down. To further prevent accidental injury, the JS120 will stay off if a new battery is inserted after a loss of power. You will need to switch the unit off and on again to continue cutting.
To make angled cuts, the jig saw has a 45 degree bevel angle range. There is an Allen wrench attached to the unit for quick footplate angle adjustments. While it worked well, we had to keep the plastic no mar overshoe off when completely extended to 45 degrees to keep the saw from rubbing against it.
The side of the unit also includes a battery indicator to let you know the amount of charge remaining, as well as an overload warning. There is a button to turn on a nifty LED light as well. Unfortunately the LED light can only be switched on when the device is already running. This may be in place to prevent the light from accidentally triggering and draining the battery while in storage, but it did become cumbersome. However, once the light is on, it was bright and illuminated exactly what we needed to see when cutting.
The JS120 jig saw comes with a standard blade, a no mar plastic overshoe, the built-in Allen wrench, an anti-splinter insert, and an insert tray that fits any Bosch L-Boxx so you can transport your tools easily. It can accommodate t-shank blades.
This was a great, well-balanced jig saw that didn't cut back on performance to meet its compact design. Its ease of use makes it a great tool for all levels and will get the job done for most small to medium projects. You can purchase the Bosch JS120 jig saw online or in stores.