Make Your House Feel Wintery If You Live In a Hot Climate
In warm climates, you may find yourself feeling the (lack of) winter blues. Bring the cozy feeling of hunkering down and enjoying winter into your home with a few simple tricks, and your house will feel below ninety five in no time. When winterizing your home to bring a little holiday cheer or seasonal specialness, keep nostalgia at the forefront. As you bring winter into your house, make sure to bring some of your favorite winter traditions with you as well.
Embrace Hygge
Hygge (pronounced hyoo-guh) is a Danish lifestyle trend that celebrates comfort, coziness, and contentment. Bringing the spirit of hygge into your home can be as simple or complex as you wish. Pick up some hygge traditions by reading The Little Book of Hygge: Danish Secrets to Happy Living. If reading isn't your forte, skip the book and head straight for blanket related DIYs, your favorite hot drink, and hosting a potluck night with all of your friends, where you're required to wear comfy clothes.
Diligent Decorating
If your thermometer keeps climbing as the year fades away, bring the spirit of the holidays into your home. Starting in September, decorate your home with autumn inspired crafts. Sprinkle the fall decor throughout your home or keep it concentrated to one area of the home — like a mantle. In October, switch the decor up with halloween decorations and in November, roll out Thanksgiving decor.
When you go to decorate for Christmas, Hanukkah, or Kwanza, think snow. Pick up some faux flakes at a local craft store, cut out paper snowflakes and hang them around the home, maybe even switch out some of your throw pillows for temporary snow or holiday themed ones.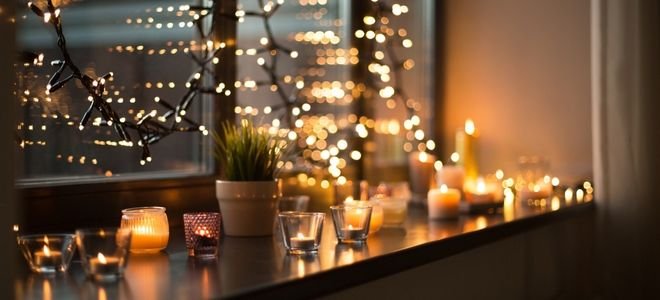 Winter Reads
Reading wintery books can help you feel all sorts of cozy. Cuddle up with hot chocolate, a winter tale, and hunker into a cozy blanket—bonus points if you DIY your own cozy slippers. You can also include the littlest members of your house in the fun by pulling out old children's book favorites like The Night Before Christmas, Dream Snow by Eric Carle, and All-of-a-Kind Family Hanukkah. If you're looking to buy these books, start at a secondhand store and give your favorite holiday classics a new lease on a shelf.
If reading isn't your speed, click up a few classic winter flicks with your friends and family on your favorite streaming service. Need a suggestion? We recommend you start with iconic films like It's A Wonderful Life or the giggle-inducing Grandma Got Run Over by a Reindeer.
Cook for the Cold
Beat the heat by dropping your thermostat and cooking your favorite winter eats. If you grew up somewhere cooler with winter traditions tied to food, don't skip out just because you have a warm pool in your backyard. Bake pumpkin flavored treats, eat chili on Halloween, or try a new festive treat and start a fresh tradition. Focus on winter-centric foods like traditional Christmas or Hanukkah dishes—or new foods that contain winter's favorite flavors like peppermint, orange, pumpkin, or anything hot cocoa related.
Craft Night
Get a group of your friends together and host a winter themed craft night. Invite everyone to come wearing an ugly sweater or with their favorite winter movie in tow. You can light a winter scented candle, play festive music, and craft away. Some of our favorite wintery crafts? Embossed Christmas stationary, custom gloves, and DIY holiday scented candles. And if craft night isn't hitting the spot, turn it into a gift swap or fun white elephant party.
Winter Scents
One easy way to make your home feel festive is to add your favorite winter scents to the mix. Whether you light a candle, add a few drops of essential oil to the diffuser, or pull out the potpourri, adding wintery smells to your home will give it a wintery feel. If you have a diffuser we recommend trying two drops of frankincense oil, two drops of cinnamon oil, and two drops of orange oil. Another great way to bring a seasonal smell into the home is to cook wassail or cider on the stove and let it simmer. If you want to combine scents with craft night, you can make your own wax melts or winter scented soap balls.
So what are you waiting for? Grab your glue gun and get crafty. Or just curl up on the couch next to your favorite candle. Both are completely acceptable options.