Meet Your Savings Goals with DIY Finance Tracking
Need to save up some money? When you find yourself scrambling to get everything together to pay the bills at the end of the month, actually saving money seems like an impossible dream.
With some smart finance tracking DIY tips, you can save a little here and a little there and ultimately, you'll reach that money-saving goal.
Take Stock
Start out first by figuring out where your money is. Write down all the bank accounts and credit card accounts you have. This likely includes a checking account and a savings account, in addition to any credit cards. It's always helpful to know where you're keeping your money.

How much money do you make per month from all of your sources of income? Look back through your deposits or pay stubs as needed to get a good idea of how much you earn in a month. Add weekly totals together if needed to get a close approximation of how much you make.
Organize Your Expenses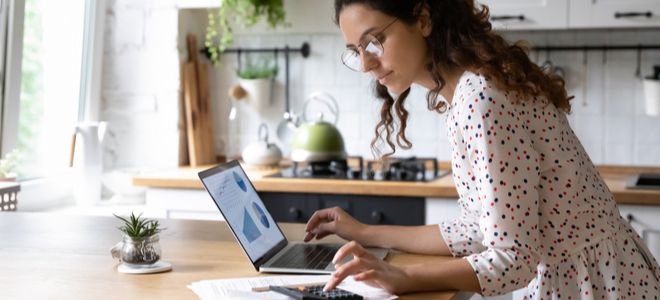 So now that you know where your money is, it's time to figure out what you're spending it on. Take a look through your accounts and past bills to get a good idea of the average amount you spend, per month, on each.
This is going to include the mortgage or rent, utility bills like electricity and water, cable or satellite and streaming service bills, trash and credit card payments, or debt payments you make monthly.

Write down the monthly average for each bill, leaving no regular monthly payment out, and then add them together. This amount is what you need to pay your basic living expenses every month. However, there's still more to add to that total.

You also need to buy food, gas and other basics. Again, go to your accounts and take a look at how much you spend, per week, on groceries. Write down a few weekly totals.
Do the same for gas and for any other regular expenses, such as wine or tobacco products. Write down these weekly totals as well. Using this data, you should be able to get an average idea of how much you spend on groceries and other regular expenses per month.

Add all of your usual expenses together and you know exactly how much money you need to have to cover your regular cost of living.
Do the Math
Are you making more money than you're spending each month? You might be surprised to find out that you aren't, or you may be surprised by how close the two numbers actually are.
As you look at all your expenses and income, you may see some sports where you could make a change. Are you spending way more than you thought on groceries every month?

What you'll probably find is that you're spending a lot on little extras; restaurant purchases and so on. You may find you're still paying for a streaming service you don't use, or something else you signed up for once and forgot about.
Cancel any regular payments you don't need to make anymore and you may be able to widen the distance between how much you make and how much you spend.

Look for areas where you can spend a little less and look to see how much more you make than what you spend. This can give you an idea of how much you can afford to put aside every month in order to save.
Track It
To make sure you're staying on track, check in with your accounts twice a month, at the beginning and in the middle. It's likely this is when you'll be making payments on bills, anyway.
Make sure you're staying on track with how much you spend and that you're putting money aside weekly or biweekly to meet your savings goals.

You can always keep a list of your regular bills and expenses and cross them off the list each month as you make the payments until all items are checked off. Start over with a new list every month.
You can even store it digitally to make it easy and elegant. Any simple method for tracking expenses will do. Simply monitoring your finances makes saving a whole lot easier.
KC Morgan has been a professional freelance writer since 2006. Over the last decade, KC has published thousands of articles and blog posts that have been read by millions. KC has written how-to articles, guides, and tutorials on different DIY ideas and home improvement projects. KC doesn't just write about DIY projects, she does them in her spare time too. KC shares her DIY passion by creating original articles, so others can pursue their own home improvement goals and ideas too. KC's articles have appeared in Popular Mechanics, and have been featured on DIY guru Bob Vila's website. KC has written in-depth DIY articles for Sears.com and Overstock.com, as well as dozens of other websites. KC combines research and hands-on practice to provide useful tips and techniques for all sorts of DIY projects so that anyone can find ways to improve their own home and get the living space they want. KC works on her home every single day to learn new cleaning hacks, find DIY new projects, and discover new techniques to share with readers. When she's not writing or DIYing, KC enjoys watching college basketball, playing with her cats, and experimenting with new cupcake recipes.