10 Ways to Overhaul Your Laundry Room in a Day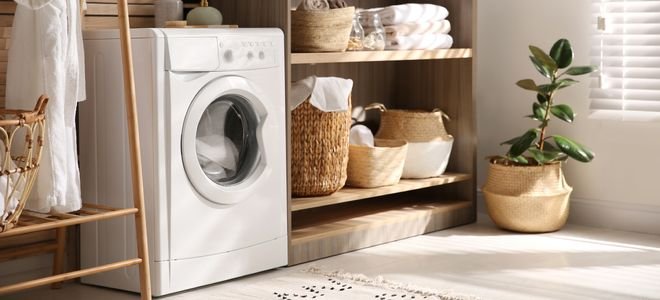 1-15 hours

•

Intermediate

•

0-1,000
The laundry room is a well-used portion of the house that often doesn't get much love in return. Just because it's a space with a singular function doesn't mean it can't be a room you enjoy spending time in. With a little planning and few tools you can revamp the laundry room in a day, making it more functional and more inviting at the same time.
1. Paint
If you're looking to bring a fresh look to the laundry space, there's no better way to brighten it than with a coat or two of paint. If your laundry room is in a damp space, consider using mildew resistant paint or at least a high-sheen finish like satin or semi-gloss.
Consider the size of your room when choosing colors, and remember a small room will look larger with a light shade. This room is for you, so explore with texture, faux painting techniques, or stenciling.
2. Add Wainscoting
For a boost of style bring in wainscoting for the lower half of the room. This can be a beadboard design or a look that resembles the front of cabinets. Either way, wainscoting can be painted to match your overall look.
3. Incorporate Shelving
Your laundry room is a workspace. That means you need room to work. With this in mind, include a shelf above the dryer or in another part of the room where you can store detergents and cleaners.
4. Install a Cabinet
Adding a cabinet, or two, or twelve, is another great way to improve the organization in your laundry room. If the room doubles as a space for craft item or linen storage, take an inventory when planning the number of cabinets you require. Neatly organize materials and supplies in totes inside the cabinets.
Depending on how you go about this, installing cabinets might be a larger job than one day, but including one cabinet once the painting is done is a task you should keep on the list.
5. Install Work Surface
While you're at it, placing a work surface across the top of a matching-height washer and dryer will provide you with ample space to fold clothes and match socks. You may even have enough room to cut fabric if sewing is your hobby. This surface can either rest on the appliances or be mounted to the wall slightly above them.
6. Consider Lighting
If natural lighting doesn't do the trick in your laundry room, consider adding a bit more. You could replace the style of your existing fixture, with spot lighting or track lighting. More simply, you could replace the bulbs for a brighter result. Stick on lighting or plug-in fluorescent-type strips are two other options that are easy to mount below a rack or shelf for additional work light.
7. Install Hanging Rack
The idea is to make doing laundry easier, so use the space you have and be sure to include a place to hang clothes as they dry or when they come out of the dryer. Use a simple shelf with a hanging bracket below it, or roll in a free-standing rack to hang on.
8. Include Baskets
Baskets are a great way to organize supplies and clothing. A wall unit with attachable baskets can be used for sorting the family's socks into different spaces. Lining baskets up on a shelf can hide needed supplies out of sight, but within easy reach.
9. Hang Hooks
A simple coat rack, preferably with a double row of hooks, comes in handy in the laundry room, especially if it's also used as a mud room or common entryway into the home. Hooks of this type can be used to hang clothes while drying. You can also attach a hanging shoe rack (with the pockets) to the coat rack or over the back of the door, to organize batteries, sponges, stain remover, and cleaning products.
10. Add Some Fun
Part of the goal is to make the laundry room a bit more fun to spend time in, so be sure to personalize it. Add a chalkboard with a simple message or bring in some cute wall hangings that make you smile. In addition to wall decor, personalize baskets for each family member or add a mural to the wall of a monkey stealing your socks.