Paint Patterns to Break Up a Bland, Boring Wall
You may find yourself itching to renovate a room or just in need of something new in a space. If that's the case, reach for a can of paint.
Paint is a great way to change up a space for many reasons. First, paint is relatively inexpensive (as far as home upgrades go), so it's a low-cost option that can have a big impact on a room.
Secondly, painting is often quick, meaning that you can tackle an entire project in a weekend or two. That's a big payoff for a little bit of time.
And lastly, our favorite thing about paint is that you can always start over. If you end a project, live with it for a few weeks, and hate it, no sweat—paint it a different color next. Paint is a quick fix.
If you want to do something bold and impactful in your space, consider a pattern. The following are a few of our very favorite paint patterns.
A Case of Stripes
Stripes are one of our very favorite wall patterns because they are incredibly versatile. You can opt for really large stripes or really narrow stripes, and you can play around with different colors to create different striped patterns.
The key to making great stripes is taping off really straight lines. You're going to want to use a level and painter's tape on the wall to measure out your stripes meticulously before you get painting.
After you've taped off the wall, we recommend ceiling the painted line with caulk. caulking that line will give you a super seamless tape pull that leaves you with a very straight line - that has no bleeds.
Picking the right thickness of stripe can really change the look and feel of a room. Thicker stripes will make the room appear slightly shorter, and have a bolder, graphic effect on the space.
Thinner stripes can be much more subtle, depending on the colors you pick, and can make the room appear taller when applied vertically.
When you're painting stripes, you can paint horizontal, vertical, or even diagonal stripes on your wall depending on your vision for the room. We've seen diagonal stripes in playrooms, and horizontal and vertical stripes in bedrooms, offices, and even sometimes hallways.
Just as important as the orientation of the stripes and the thickness is the color that you select to paint your stripes.
If you want something bold in your space, you're going to want to pick two contrasting colors.
If you want something playful, consider using more than one color and utilizing an entire color palette.
And if you want something subtle, we recommend using tonal colors or very low-key colors - like white and light blue. This will draw the eye in and keep the pattern quieter.
The number of stripes you use on the wall or walls will also have an effect on the overall space. One accent wall of stripes will draw your eye to that wall while an entire room full of stripes creates an overall ambiance.
Fa La La La Florals
In most spaces, florals often read one of two ways. Either the florals are youthful and vibrant or they are sophisticated and classic.
How your room reads when you add a floral paint wall as an accent depends on the type of florals you paint and the color palette that you use.
If you're interested in a room that feels really vibrant and alive, you're going to want to pick bright colors and florals that skew more cartoonish.
Naturally, florals are a little bit whimsical so if you're going to paint an accent wall like this, focus more on the florals and less on the form and structure of how they're all stacked together on the wall.
You don't need as much pattern or repetition when you approach a wall this way, because the point is to create something that feels really organic and fun.
If you're looking to add a vintage-inspired floral or a floral that feels very classic, you are going to want to lean heavily into structure and form when you're painting your accent wall.
You may want to sketch out florals in a line so that it mimics a wallpaper, and you're probably going to want to use deeper colors or more subtle colors as you approach this type of design.
Because you will be painting your floral accent wall, we recommend practicing quite a bit beforehand.
Because it's painted, you can always paint over with the base color and start again, but it's probably a good idea to have a little bit of practice under your belt before you dive in and paint your garden on the wall.
We like to sketch out our designs on paper before we put our mural on the wall, and we like to practice lots of different types of flowers in different scales before we add one to the wall.
The scale of your florals will inform a lot about how the space reads. Large-scale florals tend to feel more modern and whimsical, while small-scale florals are going to have a more classic appeal.
Florals are really fun, and we love a well-painted floral accent wall, but it does require patience.
It's also helpful, in conjunction with patience, if you have a projector that you can use to cast the floral pattern onto the wall while you paint. This will take a lot of the guesswork out of florals and leave you with a more polished-looking end product.
And remember, as we said, it's just paint. You can always paint the base color back over the top of a flower that doesn't quite fit and start again.
Forever Plaid
Plaid as an accent wall is an instant classic. Because plaid plays so well with many different design aesthetics and styles, it's great for any room that needs a little bit of playful sophistication.
Plaid accent walls can be done in a variety of plaid patterns, you could do something similar to a gingham or a buffalo check, or stick with a traditional plaid.
And while it's not technically plaid, you could also do something like a houndstooth-painted accent wall for something that feels both old and new.
The fun thing about plaid is that you can really customize it to work with the existing structure and aesthetic of your home.
Plaid makes a huge impact, so you don't need to put it on a massive wall to get the effect that you're looking for.
Painting plaid can be a little bit tricky because it does require that you use several different colors in a specific order.
When you figure out what kind of plaid you want on your wall, you're going to want to sit down and figure out what colors need to go down in what order.
If you're using four different colors in your plaid design, think about how the colors all need to interact with one another in order to determine which color needs to be painted first.
But figuring out what color needs to go on the wall when is probably the hardest part of painting plaid, so after that's done, the trickiest part is over.
We like to tape our plaid off, similar to the way that we tape off stripes when we paint them on a wall. This just allows us to have a really clean, sharp line with all of the plaids that we paint.
But we have definitely seen plaid accent walls free-handed, and if you've got a sturdy enough hand, it's got a really unique look that feels genuinely purposeful and fun.
It's great in a room that needs a little bit of structure but still has to be a little bit playful.
One great thing about plaid accent walls is that they feel a lot like wallpaper.
Maybe you have a wall treatment on the bottom three-quarters of your wall, and you want wallpaper on the top of your wall but you don't want to pay for it because wallpaper can be super expensive.
Consider instead, painting plaid on the top quarter of your wall. This will give the same effect as using wallpaper but will be much more cost-effective.
We love the traditional greens and reds and browns in plaids, and we think these colors give a really traditional and sophisticated gravity to a room - but playful colors have their spot in plaid wall designs too.
Half Off
One of the most popular wall painting hacks that have popped up in the last few years is painting half or three-quarters of a wall a solid color, and leaving the top quarter and ceiling the same color.
For example, in one children's room that we just painted, the bottom three-quarters of the wall is dark green while the top quarter of the wall and the ceiling are a bright white.
This is a fun wall treatment for a few different reasons. First of all, it's relatively easy and doesn't require tons of taping and lots of careful calculations about how to add a specific pattern to the wall.
This is also something that feels both new and old. We like that it has a little bit of a vintage touch, but it also feels fresh and new because we've just started doing it again in the last few years.
We're definitely not claiming that this is a new idea, it's been around for quite a while, but with its resurgence comes a little bit of new life.
Another great thing about this wall painting hack is that it can actually make your room feel taller. We use this trick in a very small laundry room, and it actually makes the room feel larger than it is.
Another great thing about this trick is that it takes very little time to paint and it has a really big impact.
It also works well if you're going to do a wall treatment on one part of the wall and you want that wall treatment to stand out.
We've seen people do things like add beadboard to the bottom of the wall behind their bed and paint that beadboard a darker color than the surrounding walls and ceiling.
Suddenly you don't only have an accent wall, you have something that's functioning essentially as a headboard and a really strong focal point in a room.
This paint trick takes very little skill or paint. Which makes it really great for beginners.
Our one big recommendation if you're going to tackle this painting hack is to tape off with good tape, make sure your tape line is very level, and then caulk that tape line.
We have said it before and we'll definitely say it again, caulking the tape line makes a huge difference with the end product. It prevents leaks and tears so you're finished product is actually that—finished.
If painting the bottom half of a wall doesn't feel like enough of an impact for you, get creative with it. We've seen people paint one half of a wall with a vertical line, as opposed to a horizontal line for something a little bit more unique and different.
You can also add shapes to your wall like this, and you can either freehand those shapes or tape them off or use a stencil. All of these options can just take that basic wall a little bit further.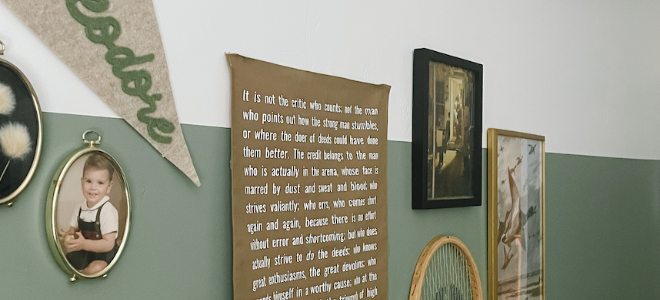 Stencils
If you love the idea of a painted accent wall, but you're not ready to totally let loose and freehand the design, maybe humbly recommend purchasing a stencil.
Now, when we think of stencils we definitely think of the stencils that our moms and grandmas used way back in the day for scrapbooking, but the stencils of today are made of strong vinyl that helps you transfer a beautiful design to a wall quickly.
You can purchase these stencils online from small retailers on Etsy or from some big box stores. When used correctly and carefully, these stencils can make any wall feel like it has custom wallpaper.