Patio Screen Door Cleaning Tips
To ensure our content is always up-to-date with current information, best practices, and professional advice, articles are routinely reviewed by industry experts with years of hands-on experience.

Reviewed by

on Jun 08, 2022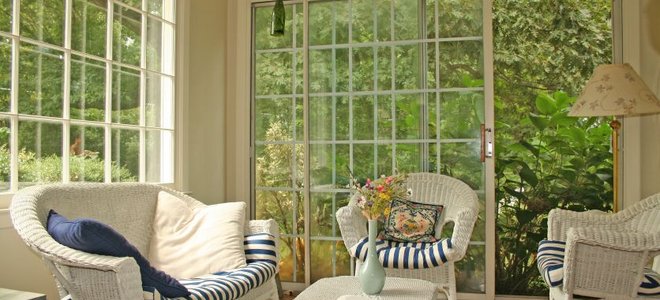 1-3 hours

•

Beginner

•

0-20
Cleaning a patio screen door is important to maximize air flow through the screen, to make sure the door tracks open and close at peak efficiency, and to reduce allergens like fungus, mold, dead bugs, and tree sap. It's a task that's often ignored or put off until the grime is so bad one can hardly see outside anymore. But inevitable cleaning must be done. The good news is that the process of screen cleaning is simple and only requires a little time and the right cleaning supplies.
Step 1 - Gather the Right Cleaning Supplies
You'll need some sort of cleaner to clean a patio screen door. Pressurized water through a garden hose will only work at removing the surface dust and won't actually clean the grime and allergens the way water combined with a cleaner will. You can purchase almost any commercial household cleaner to do the job. But sometimes it's easier, more affordable and more environmentally friendly to make your own. One easy screen cleaning mix you can make involves combining in a spray bottle 1 part water with 1 part ammonia. This mixture can cut through almost any type of grime including grease.
You'll also need a screwdriver, small scrub brush like a toothbrush, some absorbent rags or old towels, a steel wool pad, spray lubricant, lint-free cloth and a small vacuum cleaner.
Step 2 - The Process of Screen Cleaning
To do a really good job at cleaning a patio screen door, you'll have to remove the screen. For a quick clean, you can simply spray the screen from the outside using a garden hose. But this will not remove any clinging dirt or dirt in the tracks.
Removing a patio screen is easy. Simply use a screwdriver to loosen the screws, place the screws somewhere you'll be able to easily find them again, and carefully remove the screen. Screens are flimsy and you'll want to be gentle with it so you don't twist or bend the frame. Lie the screen on a flat surface like on your deck, patio or backyard. Make sure you've laid down some old towels first.
Carefully vacuum both sides of the screen to remove the loose dirt. Liberally spray your choice of cleaner on the screen and wipe the moisture away with a lint free cloth. If your patio screen door is very dirty, you may need to allow the cleaner to sit for several minutes before wiping it away. Dry the screen thoroughly and then place the screen on fresh dry towels to air dry.
Step 3 - Don't Forget the Roller and Tracks
Make sure you clean the track too by using the small scrub brush to loosen all debris. Vacuum the loosened dirt. Scrub any stubborn dirt with steel wool, then vacuum again. Finally use a cloth and cleaner to remove any remaining dirt. Allow to dry thoroughly and then apply a small amount of lubricant.
Remove the roller and the tension spring. Soak them in the cleaner for 10 to 15 minutes. Use a lint-free cloth to dry them and then allow them to air dry for about 30 minutes. Spray the roller and tension spring with silicone lubricant, replace the parts and then re-install the screen.