Pouring Second-Story Concrete Flooring
To ensure our content is always up-to-date with current information, best practices, and professional advice, articles are routinely reviewed by industry experts with years of hands-on experience.

Reviewed by

on Oct 11, 2019
Subfloor sheeting
4 mil plastic
Concrete forms
Pencil
Cement tools: float, leveler, trowel
Concrete
Cement floor polisher
Subfloor sheeting
4 mil plastic
Concrete forms
Pencil
Cement tools: float, leveler, trowel
Concrete
Cement floor polisher
Concrete flooring is gaining popularity. When polished they gleam with a high shine and if left a little rough they compliment more rustic styling. They work great for radiant heat and are virtually maintenance free. With the addition of glazes or polish, your concrete floor can fit your minimalist personality or your classic traditional style. Pouring a concrete floor, especially on the second story, is no job for a newbie. However, with proper planning and access to quality materials your second story can be fitted with a modern, polished concrete floor.
Step 1 - Check the Foundation
Make sure that the foundation of the house is strong enough to hold a concrete floor. You want to be sure that the load bearing walls can sustain concrete for the long haul. It is best to begin this process once the house has already been framed. All of the framing members need to be beefed up! It is recommended to only add a concrete floor if the installation has been well planned. The first floor foundation and second floor framing needs to be very strong. You don't want to begin the process and then determine that the buildings foundation isn't strong enough. You may want to have a structural engineer evaluate your space.
Step 2 - Prepare the Floor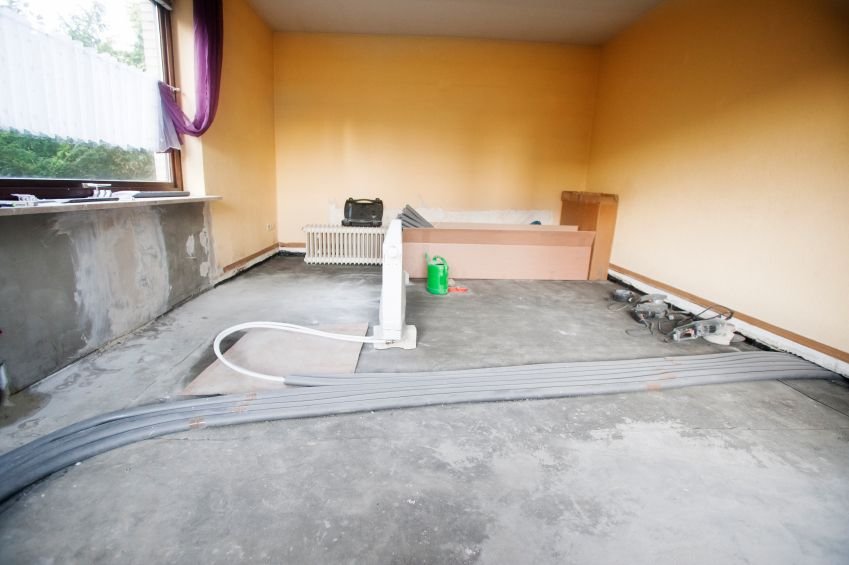 Once you have determined that the foundation of the house is strong enough to sustain a concrete floor, lay down wood sheeting. This wood sheeting, which should also be stronger than average, will act as a subfloor. Once the wood sheeting is down, add a covering of plastic. A shower liner or plastic on a roll that is at least 4mm thick will work fine. Tack the plastic at least six inches up the wall.
Step 3 - Add Cement
Plan the time for the cement to be delivered and lay your cement forms. Make sure to cover opening for doorways and duct work. Mark the walls surrounding the floor at the predetermined height of the floor. Your forms should help with this but marking the wall makes for a more accurate finished product. Let the cement roll in off the truck and prepare for the finishing.
Step 4 - Finish the Floor

Finishing the floor can be a long and tedious process. If the area you are working with is very large, you may want to ask for the help of a few friends. Step into the cement and walk around leveling out the cement. Using the cement tools you can get a very level result. Step out and finish the last bits. Place your level on top and continue if it is not quite right.

Step 5 - Polish the Floor
Once the floor is completely dry, polish your concrete to a lustrous shine or a high gloss finish. Whichever finish you prefer, your floor will suit your taste and be beautiful.
With a lot of planning and a few days of hard work, your home can be outfitted with a modern concrete floor.