Answers to Living and Dining Room Design Questions
To ensure our content is always up-to-date with current information, best practices, and professional advice, articles are routinely reviewed by industry experts with years of hands-on experience.

Reviewed by

on Jun 26, 2023
Q. We recently moved into a mid-1960's colonial. There is a room next to the kitchen and across the foyer from the living room that we want to use as a formal dining room. We were wondering about other options for lighting besides a chandelier. We haven't checked into prices for the electrical and drywall work, but we were wondering if a floor lamp or two would also be a cost effective and attractive alternative. I've never really seen or hear of floor lamps used in a formal dining room, so not sure how it would do. What options and which direction might be best?

A. I'm sure you've eaten in a romantic, dimly lit restaurant before. Is this the atmosphere you want? If so, floor lamps would probably be adequate. Although they might look odd, a better choice would be buffet lamps placed on a buffet server or side table of some sort. Or wall sconces, but that would, again, involve hiring an electrician to install them. However, if you're using the room more for family-type, informal gatherings, it will probably be too dark and shadowy on the table, and create the wrong mood.

An electrician won't charge much to install the chandelier. There's not much to it. Spend the money and have one installed. Whichever route you decide to go, at least be sure to have a dimmer switch installed. You'll be glad you did!

Also, when choosing the fixture, the diameter of the chandelier should be about half the width of the table, and the bottom of the light should be 30 inches above the table for an 8-foot ceiling - you can go slightly higher for a room with higher ceiling. Or, for a room 12x12 or smaller, use a 20-24 inch chandelier, and for rooms 14x14 or larger, use a 25-30 inch one.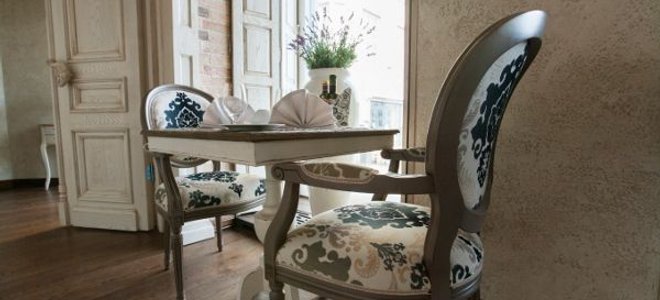 Q. My house is set up so that now my living room is the dining room, since the people who owned it previously made the garage that was attached to the house a great room. The dining room had paneling, and I chose to paint it yellow with some added texture that you can buy to add to your paint, giving the paneling look a thing of the past. The woodwork is a medium light color, there is a big picture window on one wall and another slightly big window on another wall. I should say also that the room is 15'3" wide and 16'4" long. I hung blue sheer curtains with an attached valance in a v shape with tassels. The table and bench seat in this room are light colored wood, the floor is hardwood that needs to be refinished but is in nice shape, and I plan to stencil a big center rug. The hangings are a white mirror and sconces with blue candles, bird house with glass shelf, and another picture of tea cups done in blue toile and white frame. I also have a built-in square shadow box that has a mirror behind it, and the wood stain on that is the darkest in the room - almost a dark cherry color - but does not match the other woodwork which is a medium/light wood. I just can't bring the room together. I was thinking maybe a print curtain would change the way the room feels. How can I add texture to make this room come together?

A. This is probably the most common problem people ask about. You've got several solid colors that you like together, but the room is just dead. It's because you need pattern. If you can find the printed curtains, and get a patterned area rug for under the table, each with both the blue and yellow in them, it will tie everything together. You might throw some red in there somewhere to help tie in the red kitchen.

Q. I'm looking for ideas on color schemes for my living room. It has tall vaulted ceilings, and currently is all white ceilings and walls. We are planning to replace nearly all of the furniture, so we will be starting with a clean slate. I prefer peaceful, serene, nature-inspired colors and I love the amount of natural light the room gets. However, the fireplace surround is a pinky blue marble. I'm just not that fond of pink. I was considering a pale creamy off-white for the walls, with earthy chocolate, sage green and russet shades for the furniture and using a lot of different textures for accents, but the yellow tones in the cream just don't work with the pink. Any suggestions?


A. Yes - re-do the fireplace surround! It's not that difficult, and as it is, it's ruining everything! If you're getting all new furniture and painting, then this is a major redo. Don't work around something you hate, that is easily changed to something you like. You can remove and replace what's there, or tile/stucco/panel/paint over.

Q. I am getting ready to do some painting in the kitchen, breakfast room, family room, dining room, and foyer. We have a large open design and all of these rooms are connected by arched openings with rounded corners. I would very much like to do a couple of different colors, but I'm wondering how to change colors from room to room with the rounded corners. And how would it look with two colors meeting on a rounded corner?

A. Depending on whether you are going contemporary or traditional style, you could do some kind of faux finish or paint treatment just in the arch of each doorway. For example, draw a chalk line two inches outside each doorway and paint inside that area with a neutral such as beige, a faux beige/white, or even just white if you are doing contemporary and have white baseboards. You could even "outline" the transition space with an extra area of color, such as a 1" contrasting color like this: Yellow kitchen / 1" blue line / white doorway / 1" yellow line / blue living room.

Even if you don't want to go with the two-color version, simply keeping the inside of every arch white, especially if your other woodwork is white, will help to transition each area. Otherwise, you get into a big debate about which room color should go in the arched area. I'd be tempted to sort of paint a "molding" area onto the wall about 2" or so, on both sides of the doorway. But if the rounded edge is just slightly rounded, you could get away with just drawing the straight line in the middle of the curved edge.

A completely different idea would be to go ahead and just use the same color for all the connected rooms, and just do an accent wall in each room - choosing a wall that doesn't have an arched opening in it. That way all the rooms would flow together, but each could have its own pop of color.

Q. I have a living room and dining room on the same wall that are divided by our front door only, leaving approximately one foot of wall space above the door. Since this section of wall doesn't have a corner or molding, any suggestions on how I change colors from one room to the next?

A. You really can't. Changing paint colors mid-wall looks awful, even if it's just the 12" or so above a door. It's a big no-no. Only change colors at inside or outside corners. You should pick one color that will work for both spaces. Then if you still want to have two different colors in each space, do an accent wall in one or both spaces in the different colors.


Q. I am building a new home. It will have medium oak wood kitchen cabinets and am planning the same for doors, baseboards, etc. I plan on having crown molding in my entry, dining room, hallway, and kitchen. I am wondering, is it "okay" to have painted crown molding and wood baseboards? Or, should the crown molding be stained to match the baseboards? My husband thinks we should stain it because you can always paint over stain, but it's not so easy to stain once you've painted. By the way, most all of my furniture is medium oak, too. I plan on keeping my wall colors neutral - along the lines of a beige or tan. The floor plan is very open - big archway from entry hall to great room, dining room open on two sides and large windows on another. Then, I want to paint the great room ceiling a shade darker because it's so tall - it peaks at 18 feet. I was sort of going by the rule of thumb of painting the ceiling a shade darker if it's over 9 feet, and a couple shades lighter if 9 feet or less. Any ideas?

A. Stain the crown molding for continuity's sake. Why bother putting it up if you're going to paint it? What color would you paint it? There's no "rule of thumb" that says you have to paint high ceilings a darker shade than the walls. Only if you want to visually bring the ceiling down to cozy up the room should you do that. If you love your high ceilings, and want maximum openness and airiness, keep them the same or lighter than the walls.


Visit our Community Forums for more answers to your home improvement questions.