Save Money by Building These Living Room Essentials
5-50 hours

•

Intermediate

•

0-300
Furnishing a home is an expensive endeavor, so you've probably wondered if you can build your own furniture. Is it cheaper to build your own furniture? What kind of tools do you need to DIY furniture? What kind of wood should you use?
When it comes to the living room, it's a central space that sees a lot of traffic and usage.
In addition to creating functional pieces for the space, you'll want them to match the aesthetic look you're going for. That means you can take your interior design in any direction, delving into assembling IKEA furniture or using rustic elements like a shipping trunk for a coffee table.
You can rely on glass surfaces, metal accents, or build pieces strictly from wood. The point is, you have to know what you want before you can decide if building your own furniture and other living room essentials is right for you.
Step 1 - Evaluate Your Style
If you love an industrial look, complete with exposed ductwork and bricks, you may prefer formed metal furniture pieces. On the other hand, you may feel most at home with previously-loved pieces like antique tables and vintage lamps.
If your interior design style is more farmhouse, rustic, or coastal, solid wood furniture you can make yourself can be a great fit.
Step 2 - Evaluate Your Budget
Sometimes the decision is easy, such as when the budget just isn't going to allow the purchase of your dream hardwood. Hitting a resale shop, estate sale, or online marketplace might be the best option.
Similarly, pre-fabbed pieces might fit the bill. The important thing to note, however, is that inexpensive furniture isn't going to stand the test of time like a well-made piece of furniture.
That IKEA bookcase might last five years, and perform poorly much of that time. A solid wood bookcase, on the other hand, can last a lifetime and beyond.
While the upfront cost might be more for the DIY-options, if you have to buy multiple bookcases, you'll soon see the savings in building furniture yourself.
When you compare DIY builds to custom or high-end furniture, you'll see substantial savings, though.
Step 3 - Pick Your Projects
You'll have to evaluate your skill set when considering what kinds of projects to tackle in your living room.
Smaller projects will require fewer tools, supplies, time, and experience. If you have few of the above, you probably won't want to launch right into a complex coffee table design or build your own sofa. But that doesn't mean you can't make some of your living room essentials and save money along the way.
Here are some to consider.
1. Bookcases
Building a bookcase is a fairly straightforward woodworking project. In your living room, it can act as a space not only to hold books but to display decor, photos, and artwork.
If you include cabinet space, you can also store supplies, photo albums, games, blankets, pillows, or the now vintage DVDs and CDs.
For the most basic design, build the bookcase to your specifications and then attach exterior doors to the bottom section.
Step 1 - Decide on Size and Style
What you're building here is a basic multi-shelf wood bookcase. However, you can adapt that design for your space. Do you want it as a built-in on one side of the fireplace, or will it be a freestanding unit?
How tall and wide will it be? What fits into your space? How many shelves do you want? Also, do you want your bookcase to have adjustable or stationary shelving?
Step 2 - Collect Supplies
Choose your wood. Softwoods like pine and cedar are easier to work with, but may not have the look you prefer.
Oak, hickory, maple, and cherry are hardwoods that require a little more effort to cut and secure together, but provide a long-lasting finished product.
If you have a planer, you can plane boards from whatever you can source. Otherwise, you can purchase cut wood for the sides and shelves of your bookcase.
You'll also need hardware, including screws as well as hinges if you're building doors, saws, and a sander. You may choose to use a nail gun instead of screws. If boards are pre-finished you may not need a sander either.
Step 3 - Cut Your Boards
Your bookcase needs long boards for the sides, which also act as the legs. Cut these in the height you've chosen. Also cut the connecting board for the top and each shelf.
For the strongest design, cut two lengths of each sideboard. Use a router to cut grooves for the shelves or use sections of boards in between each shelf on the vertical.
Step 4 - Mount Shelves and Sides
Glue and screw or nail the inside vertical side to the outside vertical board. This gives the bookcase additional support. Mounting shelves to a single vertical side is an option for lighter loads.
Step 5 - Fit the Top, Back, and Kickplate
Attach the top of your bookcase, securing it with nails or screws. For a custom look, carve out a 90-degree corner on the end of each board, so it slides over the vertical side boards.
You may choose not to attach backing, especially if you're building a built-in bookcase or just like the open design shelving. Backing does add additional support, although typically it will be a lightweight and thin material. To attach, simply cut your chosen material to size and staple or nail it into place.
The kickplate is a narrow piece of wood that fits along the bottom of the bookcase, attaching to each side and sitting directly below the bottom shelf.
Note—If you want your shelves to be adjustable, use a jig or drill to create evenly-spaced pin holes. Alternately, you can install a vertical metal strip made to hold shelf clips.
2. TV Stands
Build your own farmhouse style TV stand with a basic build design and some embellishments.
Step 1 - Choose Your Wood
Since most wood doesn't come in widths wide enough for a TV stand, you can stretch your budget by using smaller pieces that are glued together to create a beadboard or shiplap-type look.
You can use standard lumber or go exotic, depending on your overall plan. If you plan to keep the wood look, consider the grain. If you're going to paint it, make sure it's a durable wood, but you don't have to worry too much about the grain look.
Step 2 - Make Your Cuts and Connections
Cut two wide boards to length for the top of your cabinet. Glue them together at the side to make a solid top piece. Once dry, use a pocket jig, and mount the boards together with a few 2-21/2" screws.
Next, use the same process to cut the bottom and the middle shelf, using several 2x4s glued and mounted together to form the desired size side.
Use a pocket jig to reinforce them and keep hardware hidden.
For the farmhouse-style sides, cut a square piece of plywood that fits the dimensions of your TV stand. Use 2x2 lumber to create a square and attach them together like a picture frame, again using the jig.
Then cut thin 1x2 into an arrow shape at each end, so it fits diagonally from one corner to the opposite. Create a criss-cross design with a second piece of 1x2. Then mount the frame to the plywood.
Repeat the process for the second end.
Step 3 - Put your Farmhouse TV Stand Together
You'll want to build a center section for your TV stand, both for organization and support. Use the connected 2x4 method to build matching vertical supports that fit neatly between the bottom and the shelf.
Then glue and screw together the two vertical pieces with a shelf made of 2x4s. This unit will slide between the upper shelf and bottom where you can mount it to both.
Attach the sides at the same time.
Your TV stand is now constructed with the exception of the top piece. Finish framing in supports for the top with a 2x2 across the top front edge and a flat 2x4 supporting the back edge. Then mount the top.
Step 4 - Add Finishing Touches to Your DIY TV Stand
You can further embellish your TV stand with cabinet doors that match the end pieces and a back piece if you desire.
Paint or stain your TV stand as desired. For a modern farmhouse look, sand some of the paint back off for a distressed finish.
3. Coffee Tables
Using the same techniques for the TV stand above, you can make an easy coffee table.
Create your design based on the dimensions of the finished table. Make the top out of two connected boards. Mount vertical boards from the bottom, using a jig, and spaced appropriately for a strong and balanced support.
Then attach a lower shelf to the vertical legs for storage and additional support.
You can add sides or a door to the front if desired.
4. How to Build a Lamp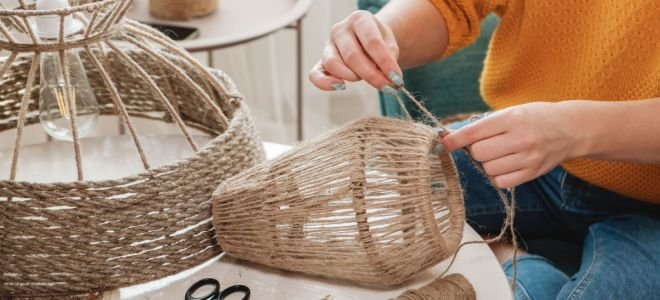 Lamps are actually more about the electrical pieces than the structure holding them. If you're short on money and rich on scrap wood, build your own lamps.
Step 1 - Gather Supplies for your DIY Lamps
You'll want a light bulb, socket, and cord for each lamp. From there, you can get creative on the design and buy your supplies accordingly. For a simple wood base, you may not need to purchase additional materials.
This is a great way to upcycle materials since lamps can be made from pallet boards, barn wood, hardwood scraps, or anything else your creativity can conjure up.
Step 2 - Build the Frame
Have some fun here! The important thing to remember is the wiring so the frame can take any shape. These are just some ideas to get you started.
Use two similarly-sized chunks of wood. Carve out a space for a pipe to go up through the middle when they are connected together. Then attach them using leather buckles, bulky metal hardware, or other rustic materials.
Similarly, drill through a single chunk of wood. Give it a flat bottom and run wiring through the hole.
If you prefer working with metal, attach pipes with corner joints into any design you like for a very steampunk appeal. Feed wiring up the middle of the pipes.
Back to the woodworking, make a basic four-sided box out of reclaimed lumber.
Remember lamps don't have to sit on a table either. If you're looking to save money on lighting, make your own floor lamps, wall lamps, or ceiling lamps.
Step 3 - Make a Lampshade
With standard equipment, you can buy a lampshade that fits your style, but if you want to continue with the DIY process, you can easily make lampshades too.
Grab a metal frame and fit a fabric to size. Mount the fabric to rigid paper using glue and flatten out wrinkles as you work. Then shape into a cone, attaching the ends together.
Another alternative is to make a square or rectangular frame out of small wood, such as strips of 1x1. Cut four vertical pieces to your desired size. Then cut eight horizontal pieces.
Attach the frame at each corner. Then create transparent panels for each of the four sides. Mount them to the inside of the frame.
Step 4 - Wire It Up
Wiring kits are easy to use. Feed the wire up through your lamp. Use a locknut or socket cap at the top. If you don't have these options, tie a knot in the wires to keep it from falling back through the lamp.
Strip the top of the wires and attach them to the socket. Then place the socket into the socket cap, if that's the design you're using.
If unfinished, attach a plug to the other end of your wiring. Then install your lightbulb and test the lamp.
Add your lampshade mount and the shade itself, if you're using one.
Caution—Never plug the lamp in while working on wiring components.
For money-saving living room ideas, check out how to Build Multipurpose Furniture from Cubes and how to Turn a Coffee Table Into a Bench Seat.