Sherwin Williams Superpaint 101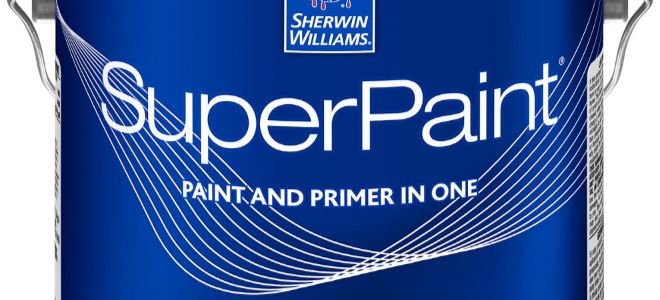 5-10 hours

•

Beginner

•

50-100
Sherwin Williams SuperPaint
Paint roller
Drop cloth
Sherwin Williams SuperPaint
Paint roller
Drop cloth
Whether you're a painting pro or a novice painter, picking the right paint for your DIY home reno projects is crucial. Especially if you're painting over a wall that's already painted, picking the perfect shade of paint isn't the only thing on your mind.
What to Look for in a Paint
Great paint needs to do a few different things. Most obviously, your paint needs to have great coverage. Sherwin Williams SuperPaint is a paint and primer in one, so the higher price tag on this can also include the primer cost. With the primer built into the paint, you have a higher coverage rate. When you're testing out paints, you place a swatch on your wall and see how much coverage the color gives you with one coat and two coats. If it takes more than two coats to cover your wall, find new paint.
Another tell-tell sign of great paint is how well it washes up. Especially if you're painting a baby nursery or kid's room, you need paint that is easy to clean up when crayons or baby food ends up all over the walls. After you paint your test strips, give it a day or two to dry and wipe the paint with a cloth. Make sure no paint comes up onto the cloth.
The makeup of the paint is also important. If your paint is too thin, check to make sure it was mixed right at the paint store. The same goes for if your paint is too thick. You should be able to easily roll the paint onto a wall with a sponge roller brush.
Tips for Painting with SuperPaint
When painting with Sherwin Williams SuperPaint, there are a few tricks you can take advantage of.
When it comes to applying the paint, avoid 'stretching' or trying to make a small amount of paint cover a large area. Though this trick often works well with chalk paint, be generous when working with SuperPaint. Making your coats too thin doesn't give you the full coverage of SuperPaint. SuperPaint is already considered to be a thinner paint, so don't overdo it with your strokes.
The kind of roller you use for your paint project is also very important. Pick a roller that is high quality and at least a three-eighths nap. If you need to store your roller overnight, seal it tightly in a bag and store it in your fridge. This will keep the roller in good condition so you can keep painting the next day without waiting for a wet roller to dry.
When you're painting with SuperPaint, make sure to lay down a drop cloth on the floor and tape off your baseboards. Even if you're a painter who generally gets away with not taping things off, SuperPaint can be a little splattery, so you'll want to tape off. If you want to create a perfect seal on your paint tape line, use a little caulk along the tape line before you paint. Wipe the caulk down into the tape line with a paper towel so it's flush with the wall. You'll get clean lines every time.
And make sure to check the weather before you paint. Warm, humid days make it harder to paint than cool, dry days. If you do end up painting in hot, humid weather, make sure to ventilate the room well and consider adding a fan to your project scope list. You'll need to give the paint longer to dry on the walls as well.
And lastly, if you're a baller on a budget, sign up to be a Sherwin Williams preferred customer. You'll be able to snag your SuperPaint at a discount.
No matter your paint project or the brand of paint you're using—be patient with yourself. A fast, sloppy paint job almost always dries slow and sloppy. When you take the time to paint right, you'll achieve a clean look that elevates any space.