The Best Way to Kill Mold in the Attic
2-3 hours

•

Beginner

•

30
Spray bottle
Mask
Gloves
Bleach
Vinegar
Baking soda
Spray bottle
Mask
Gloves
Bleach
Vinegar
Baking soda
Mold in the attic (or anywhere for that matter) can be a health and safety hazard—when you spot it, you have to act fast. While this pressure can feel overwhelming, there are several ways for you to tackle your mold problem the DIY way, before you have to call in a professional.
On that note though, if you do discover advanced mold in your attic, professional help may be your only option. Similarly, if you have preexisting health conditions like asthma or other lung or allergy-related ailments it's best to leave the mold killing to someone else. Mold, when disturbed, can release spores into the air, and even if you're wearing a protective mask, preexisting health conditions can put you at serious risk.
Causes of Mold
While damp and warm climates are a prime breeding ground for our fuzzy friend, other conditions that bring mold include lack of ventilation and proper sheathing. High humidity in a space like an attic can lead to mold and a spill in a carpeted area of your home that isn't quickly taken care of can also lead to mold under the carpet. And just because you can't see that mold doesn't mean it's not dangerous.
Knowing what climate and structural elements contribute to mold problems can help you know what trouble spots to check.
Hydrogen Peroxide Method
Take three percent hydrogen peroxide—which can be found at most grocery stores—and put it in a new, clean spray bottle. Generously douse the moldy area (while wearing a mask and gloves) and let the peroxide sit on the mold for at least ten minutes. After the peroxide sits, wipe the dead mold away with a clean cloth and repeat it across the entire moldy area. Discard the rag after use, you won't want to be using the moldy rag all over your home.
You may need to spray more than once or twice to get this method to bring the desired results.
Vinegar Method
Another way to attack mold in the home is with vinegar. While not effective at killing all types of mold, vinegar can kill around eighty percent of mold types. Take a clean spray bottle and fill it with undiluted vinegar. Douse the mold with vinegar and let it sit. Then after ten to fifteen minutes, wipe it away. Do this a few more times and then, when possible, crack a window to let the smell of vinegar wear off.
Baking Soda Method
If you've got mold in your carpet, take a spray bottle, some baking soda and a scrub brush to the scene. Dissolve one to two tablespoons of baking soda per cup of water in a bottle and spray it on the mold. Then use a scrub brush to work the solution in. This will disturb the mold spores greatly so make sure you are fully protected with a mask. Let the solution sit for about twenty minutes and then go again. This solution is also helpful when to comes to removing mold stains and is safe around pets and kids.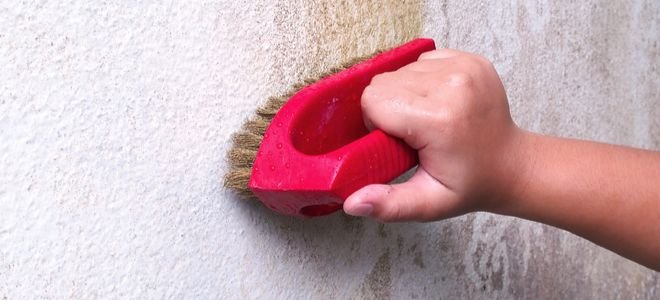 Bleach Method
By far the most popular DIY mold killer is bleach. Mix a cup of bleach into a gallon of water and use that solution to attack the mold. While wearing a mask and gloves to protect yourself from both the mold and the bleach, carefully apply the bleach solution to the moldy area. This solution can cause discoloration on some surfaces so be cautious. If your mold is on a porous surface, add a little squirt of Dawn dish soap to the mix. This will help the solution get into all of the cracks and crevices.
If one of those solutions works for you, wait an appropriate amount of time before trying another one. And if no solution works to kill your mold problem, you may need to try chemical mold killers.
And while killing mold in your attic or home is the top priority, fixing the underlying problem is essential so the problem doesn't keep popping back up. Adding a dehumidifier or fixing ventilation issues will ensure that the mold in your attic, or anywhere else in your home, doesn't keep popping back up.
Refurbishing, rediscovering, upcycling, and reinventing—all things Maddison can do with a pair of scissors or a can of paint. A Brigham Young University grad with a degree in English and communications, Maddison has worked with small and large businesses alike, developing creative marketing strategies. Maddison is also a seasoned photographer whose work has been featured on ESPN and in several magazines in the US. After several years as a sports photojournalist, Maddison primarily focuses on product photography and capturing families, newborns, and kids with her camera.  As a DIY writer of 5+ years, with a decade more of experience, Maddison has a knack for turning trash into treasure and convincing her friends it came from Anthropologie. In the last few years, Maddison has begun consulting as an interior design specialist, working with corporate spaces and homes.