What Is the Best Wood for Workbench Tops?
To ensure our content is always up-to-date with current information, best practices, and professional advice, articles are routinely reviewed by industry experts with years of hands-on experience.

Reviewed by

on Mar 15, 2023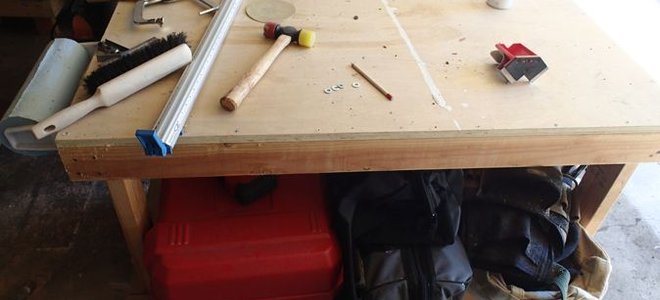 Choosing the best type of wood for your workbench top depends on both your budget and on the type of work you plan to do, not to mention your own aesthetic preference. Each type of wood has its own peculiarities which will be explored below in order to allow you to make the most informed decision possible.
Soft Woods
Soft woods such as pine and birch are relatively inexpensive but are less durable than hard woods and, no matter how many coats of paint or varnish you apply, they can be quite easily dented and scored by your tools and materials.
Additionally, pine can often ooze a resin over time that may stick to your work. On the plus side, if you drop a piece of work onto a soft wood bench, you may put a dent in the surface but the item you're working on remains undamaged.
Hard Woods
Hard woods such as oak and maple are more expensive but less easily damaged during the course of your work. Some hard woods, such as red oak, have a tendency to splinter if subjected to prolonged banging, so it may be wise to stay away from them if your work will include a large proportion of hammering. You should also consider the humidity of the environment that the bench will be placed in.
A wood that expands and contracts seasonally will eventually become warped. This may not be a problem for you depending on the type of work you will undertake or can be minimized by using a thicker top (two or more inches). Hard woods can be sanded down periodically to remove all but the deepest damage to them.
Plywood
If the top of your bench will finish flush with the frame, a good, low-cost option is to use plywood for your workbench top. The surface will be relatively durable against damage caused by tools and materials and it can be either sanded down or replaced as required. Plywood is also unaffected by seasonal humidity changes so it will not warp if subjected to differing levels of moisture in the air.
However, if you are using the bench primarily for woodworking, it may not be as perfectly flat as you require. To improve the rigidity of the surface it is recommended to use two or more layers of ¾-inch plywood for your workbench top.
MDF
For a bench that extends beyond the frame of the workbench to accommodate vices or other clamps, MDF is an excellent choice. As with plywood, MDF is not affected by changing humidity levels and can be sanded down if damaged until it requires replacement. As well as having the strength to extend beyond the frame, MDF provides a flatter surface than plywood for woodworking use.
Combination
To get the rigidity and weight of a hard wood without having to be overly concerned with damaging an expensive worktop, you might consider attaching an MDF or plywood layer to the top of a hard wood base. This layer can be sanded down or replaced as required.
For a flat surface it is recommended to attach the plywood layer from underneath the bench rather than drilling down from the top. An alternative to using a hard wood for the base layer in this set up is to use a hollow wood door. These can be picked up relatively cheaply in a home improvement store.