Who Needs Expensive Resorts? DIY Travel
To ensure our content is always up-to-date with current information, best practices, and professional advice, articles are routinely reviewed by industry experts with years of hands-on experience.

Reviewed by

on Sep 13, 2017
One year ago, in May, my boyfriend Josh and I decided that we wanted to take some time off from work and do some extensive traveling. We embarked on a journey that took almost a year of planning, but that turned into one of the most rewarding experiences of our lives. Although budgeting, saving, and planning can be time consuming, it was a much more manageable task than either of us thought possible. Here are some tips that we learned along the way.
Pick a Good Group
Having traveling buddies is very important! Traveling alone can be extremely dangerous so you should have at least one partner with you. Try and have a balanced group full of people you think will still get along after weeks of stressful travel. Keep in mind that the more people you add to your group, the more complicated the trip will become.
Pick a Date
Chances are you already have a particular time of year in mind that would work best for you. Because I'm in the nursery industry, winter is slow and I knew I would be able to get the time off. Think about what time of year is slowest at your job and check your calendar to make sure you don't miss any important events like weddings or reunions. Also, try and plan your trip during the off-season. On-season is the time of year when many people travel. This creates crowds, traffic, and higher prices. So, avoid any time of year when you know children will be home from school. Good times include late January to late May and early September to mid-November. Compare schedules with your traveling buddies.
Decide on a length of time for your trip. Josh and I were able to be away for over two months, which was a wonderful length of time. We ran into a couple from Washington state in Plitvice, Croatia, who had been away from home for six months and said it was incredible. Of course, many of us can't afford to take this much time away. Talk with your partner or group about how much travel you can afford and how much time you can afford to be away. Keep this time frame in mind during the budgeting stage.
Pick a Place
Picking a place or region to tour can be one of the most complicated parts of the trip. Since you want to see as much as possible, pick places that are easily accessible and are close to other points of interest. Coordinate with your partner or group about destination options. My boyfriend and I were very interested in seeing both Croatia and Turkey, so we began examining the map for places nearby we thought would be interesting. We decided to start in Egypt and visit Croatia, Greece, and Turkey as well.
Think about friends you already have abroad. Having a buddy that lives in or has an intimate knowledge of a particular region can be invaluable. Language barriers abroad can be huge obstacles and a friend who speaks the language can act as your trip translator. With your own personal tour guide you will get to see more local culture and can avoid those nasty tourist traps.
Think about what the climate will be like at your desired time of year. Since we were going in the winter my partner and I decided to avoid high altitudes. Croatia was chilly, even snowy at times, but Greece and Turkey were sunny and warm, so we got to experience a few climates which was nice. Do some research on the average climate of your destination options and learn what to expect. Avoid rainy seasons, hurricane seasons, and periods of intense heat.
Look into travel prices. Some places are very inexpensive to visit; some are very expensive. Initially Josh and I wanted to visit Morocco and Israel, but flights into those locations were remarkably pricey. Many popular destinations are also very expensive to travel in, such as Paris and Tokyo. Do some advance research on accommodation and travel prices in different regions of interest and keep these in mind for the budgeting stage.
Set Your Budget
Budgeting is an extremely important part of any trip. You need to know beforehand what to expect and make sure you are covered for all situations. Here are the things you need to consider for your budget.
Lodging
First, sit down with your group and talk about how much you want to spend on accommodations each night. Hostels are a very budget-friendly option for travelers. They are similar to hotels but are less luxurious, usually with a camp-like feel to them. You can choose to have your own private room or share a room with other travelers for excellent prices. Hostels typically have kitchens and laundry facilities as well. These resources can be essential for cutting down on food and washing costs. Hostelworld.com and Hostelbookers.com are both very popular and easy to use hostel-finding sites.
Take a look at the reviews for a more accurate reading on the place. Ideal hostels have internet access and either a central location or easy access to public transportation. Depending on the location, hostels can cost anywhere from $10 to $30 per person per night. I had never stayed in a hostel before and was apprehensive about being in such close quarters with strangers, however, I learned that hostels actually have a distinct advantage over hotels because you get to interact a lot with other travelers who have great stories and give great tips.
There are a million different types of hostels out there. Josh and I stayed in a treehouse hostel, and a hostel built into a cave! Decide how much you want to spend each night, multiply by the trip's number of nights, and write this down as the first column on your budget.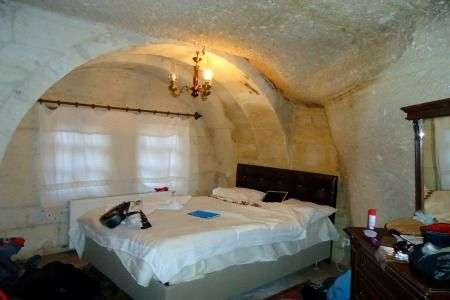 Food
Next, think about food. Eating out can really add up. Hostels that have kitchens allow travelers to seriously slash the cost of meals. Josh and I ate rice and veggies or pasta and veggies at least four nights a week. Did it get monotonous? Yes. But we saved a huge amount of money and made a point to try all of the famous local cuisines for cheaper lunches out. When we needed to grocery shop we headed straight for the local markets, like charming outdoor farmers' markets. Street food is cheap, and produce is locally grown, ripe, and delicious.
Eggs, cheese, meat, and veggies can be sold by weight in any quantity, and loaves of bread are still hot from the oven. They certainly don't stay open as late, but the food is much fresher and cheaper at the markets than at the supermarkets and minimarts that line the streets. Cooking dinner yourself after a long day of sightseeing with fresh new ingredients feels much more authentic and comfortable than eating out at a fancy hotel restaurant, at least to me.
Talk about how much you want to spend each day on food and add that to the budget. Josh and I spent about $15 a day each on food. Remember, over-estimating is better than under-estimating. You can always adjust the budget down during travel if you are spending less than expected. Adjusting up is more difficult.
Transportation
Begin estimating the cost of travel. Look at flight prices there and back as well as the prices of major trains, ferries, buses, or other flights you may need during your travels. Josh and I traded fast and convenient flights for long cheap bus rides. These were usually overnight, loud, stuffy and crowded. But, as you coast down empty highways the moonlit scenery makes up for the time spent. And overnight bus rides cost about a third of what the flights would have. We booked all of our travel ourselves online, or by visiting ferry and bus stations in person.
ou may think that making all of these plans requires a travel agent, but in this day-and-age its easier than ever to do it yourself. Add your travel expenses up and write the total down on your budget. Also consider the cost of taxis, trams, and subways you may need to get back and forth in your destination. As mentioned before, some places are cheaper than others. Josh and I found that all of our travel in Croatia was very inexpensive because it is off the beaten path.
Tours
Remember that you may want to take some tours while you're traveling. To cut down on these costs, which can be very expensive, choose activities that are low in price or free. We found that many popular museums have free hours on Sundays or certain weekdays. Plan ahead to be there at the right time. Many famous parks and plazas are free and some of our best days were spent just wandering around.
Forgo expensive outings like hot air balloons or hang-gliding trips for hikes to scenic view-points. Instead of buying a ticket for expensive hop-on hop-off busses, pay much less for a subway or public bus ticket and follow the route yourself. Keep in mind that though all-day tours can be expensive, many companies offer great deals that include meals and all travel. We did one or two all-day trips and were able to see much more than we could have on our own. As best you can, estimate the cost of sight-seeing and add it to the list.
Goodies
Souvenir shopping is always a fun part of any trip! At least it was for me. Josh may feel differently. Keep in mind that for longer trips you can only buy what you can carry! This was a tough concept for me to grasp. Josh and I used large backpacking packs and as mine got heavier and heavier, I got more and more miserable.
One day in Antalya, Turkey I bought a few handbags and happily brought them back to the room only to realize that I had no room in my pack for them! I made it work, but of course they were totally squished. After returning home, it took a month for the bags, stuffed with clothes, to regain their shape. But, I digress. I wish I had kept this in mind more often during my trip.
Small souvenirs like candles, soap, local candies, and small crafts work best with the limited space. Consider how much money you want to spend on souvenirs and shopping and tack that to the list.
Emergencies
No one wants to think that something bad could happen to them while they travel, but it can. Being financially prepared is the best way to protect yourselves. The problem with emergency money is that an "emergency" can constitute anything from a lost make-up bag, to a $10,000 hospital stay. Josh and I set aside $500 of emergency money each just to be safe. Josh used none of his and I used $100 of mine due to a stolen wallet, but you are better safe than sorry.
We also invested in good travel insurance, costing us $150 each. We did not need it, but again you never know what's going to happen. Figure out a sum of emergency money that sounds right for you, and complete your list.
Miscellaneous
If you think of other things you may want to add like an entertainment budget, alcohol money, or splurge on a nice hotel or day out, remember to add this to your list. Now grab your calculator and get to work! Don't worry, you'll probably end up spending less than you think. This can be especially true if you pick a location that has a much cheaper cost of living than the US. Josh and I ended up spending about $1,500 less each than we budgeted for, which feels great!
If you can't feasibly save enough money to satisfy your budget, you can either start looking for cheaper options or cut down on the length of your trip.
Save Up
Saving the money for our trip took almost a year, but was easier than we expected. We calculated how much money we would need to put aside each month, so that we could fulfill our budget in 12 months. Every time Josh and I got paid, we would put a certain amount of money aside into an untouched savings account. Thankfully, we also both had some money left over from college that we'd set aside previously.
For every holiday that year, instead of buying each other presents, we put money aside. We asked for money towards the trip from our friends and family for birthday and graduation presents. Every time we considered going out for dinner or a movie, we stayed in instead and put that money aside.
With careful preparation and planning, saving up enough for your backpacking tour can be pretty painless. And, thinking about the fabulous trip in store for you certainly puts a little scrimping and saving in perspective!
Gather what You'll Need
Backpack
The most important thing you need for a backpacking trip is a backpack. Technically, you could use wheeled luggage. I was initially concerned about lugging around a huge backpack and considered using luggage. However, I ended up using my mother's pack and was really glad I did. At times, Josh and I found ourselves on uneasy terrain, and being able to pick up the pack and take it with us was so easy. Once we were dropped off by a bus in the middle of the mountains in Croatia and had to hike two kilometers in a meter of snow.
That trek was certainly memorable, and would have been impossible using wheeled luggage. If you don't already own a pack and can't afford a brand new one, ask around and see if you can borrow one from a friend. Look online for used backpacks on eBay or Craigslist. Look for something that has been lightly used; you don't want to have any problems on the road.
Clothes
The disadvantage of using a backpack is the limited space. So, make sure you only bring the essentials. I brought two pairs of jeans, one pair of yoga/sweat pants, six T-shirts, two sweaters, two jackets, 10 pairs of socks and underwear, one pair of sneakers, and a pair of flats. That's it.
Admittedly, we did have to buy boots, scarves, gloves, and hats when it was snowing in Croatia. Luckily, we had enough space for (almost) everything, and the backpacks were a very manageable size and weight.
Necessities
It is also a good idea to have shampoo, soap, and a camping soap box with you. We brought along two camping towels that were a huge help. They are light-weight, can fold into tiny squares, and dry completely in a few hours. We also had a case for our backpack that needed to be checked at the airport. This is important because the straps and buckles could become damaged in transit. The cases are made of light fabric that can crumple up to a very small size.
Electronics
I brought my laptop with me in a safe separate laptop bag. Even though I was concerned for its safety, it was safe locked in my hostel room all day. And, when I had internet, being able to send emails home was great, especially since we did not use our cell phones.
However, in many places we had unreliable internet connections. So, we planned ahead by filling a hard drive with many seasons of TV shows and movies which was great for long flights.
Plan Your Route
Planning a trip of this magnitude can seem daunting, so the more time you spend planning the less stressful it will be. Josh and I scoped flights and prices for two months before buying anything. We perused pages and pages of hostels, and saved multiple lists on our laptop of budgets, calendars, and potential places to stay.
The first thing we booked were our flights, there and back. We decided to book a multi-leg ticket, meaning we would fly into one airport and home from another. We booked a ticket into Cairo at the end of January and a ticket home from Istanbul on April 5. We used Kayak.com, a travel planning site that had the best prices.
Next, we picked a hostel in Cairo where we would stay upon arrival. We arranged with them to pick us up from the airport since our flight was getting in after midnight. We also found other hostels where we could stay during the trip and saved all of the contact information on a comprehensive calendar, but made no reservations.
Josh and I were very excited to leave some of our trip unplanned to give it that spontaneous element. Even though this was a little scary, it turned out wonderfully. Because we didn't make all of our hostel reservations and travel plans upfront, we were able to alter our plans at the drop of a hat. All we had to do was be in the Istanbul airport on May 5, nothing else.
Along the way we met other travelers and locals who recommended interesting places to visit, places we had never heard of before. We were always able to find time to fit in the most interesting, and got to see a lot of unanticipated wonders. However, be warned that traveling like this can be stressful: we experienced many all-night bus trips and red-eye flights.
Some countries require you to obtain a visa to enter. Do research on whether or not you will need one and how to get one. Usually, it pays to get your visas in advance. Some countries, however, will sell you one at the airport for cheaper than you could get it otherwise. Some counties require additional medical attention before entrance, such as shots or check-ups.
Look up these requirements on the state department website and get them taken care of at least 2 months before you depart. Take a look at your passport to be sure it is up to date.
Adventure!
A week before you're set to leave, begin packing slowly and practice with your backpack! Yes, I mean it. Carrying a heavy pack almost every day can put a strain on muscles you didn't even know existed. Practice with it and adjust the settings until it fits comfortably.
Prepare for some hiccups! Three days before we were planning to depart for Cairo some violence broke out in the city and a city-wide curfew was imposed on everyone. Josh and I decided it was no longer a good idea to go there, so we had to change our plans to fly to Spain instead. We changed the flights at only an $80 cost to us (after a few hours on the phone with the airline), cancelled our Cairo hostel, and booked a new one in Madrid. Even though we had a dramatic few days, when we finally arrived in Madrid it was like none of it ever happened.
Be prepared for some people to snub you! Not everyone out there in the world is nice. You will meet some amazing people, and some not so amazing people. Don't let one sour person ruin your opinion of a new country.
See as much as you can and enjoy yourself! Remember, this is your time. You've been working hard all year to get here so do things that you want to do!
Take pictures! Invest in a good camera and don't forget to document. You will look back on these pictures all the time and smile.
Traveling the globe is something that very few people get to experience. But, it can be easier and more rewarding than many think possible. Even though this journey at times was complicated and nerve-wracking we both came home feeling as though we met a huge challenge and immersed ourselves in the unique character of the places, the people, the food, and the experiences we had. With the world shrinking every day, the costs of travel are becoming more and more manageable and with the proper planning and budgeting, every DIY-er can create their perfect trip.
STAYING CLOSE TO HOME THIS SUMMER INSTEAD? ENHANCE YOUR STAYCATION WITH YOUR OWN OUTDOOR MOVIE THEATER.
Rachel Klein recently graduated from Clemson University in South Carolina, where she majored in business and political science. In her free time, Rachel loves to garden. Though she's young, Rachel is a master at growing a vast assortment of organic herbs and veggies—all of which she stores herself using various drying, canning and jamming techniques. She abstains from using any pesticides in her home garden, and she does her own composting. Rachel hopes to pursue a career within either the nursery or the organic agriculture industries.

Jenelle is a city girl trying to make it in the country. She "McGuyvers" her way through home ownership, dog parenting, and life in general. When she is not writing to give her dogs a better life, she is probably watching Netflix.