Tips for the Perfect Window Box
To ensure our content is always up-to-date with current information, best practices, and professional advice, articles are routinely reviewed by industry experts with years of hands-on experience.

Reviewed by

on Jun 26, 2023
Window boxes are the original container gardens. They add immediate charm and beauty to any space, and when planted well they add lots of life and color to your home. There are lots of ways to use window boxes, and lots of options when it comes to choosing the right plants for them.
Outside the Box
The first thing you need to know about window boxes is this: they aren't just for windows. You can add window boxes to walls, fences, railings, ledges, steps — pretty much any spot that needs a pop of color. You don't have to build your own boxes, either. Modern window boxes come with all sorts of extra options, including self-watering designs and lightweight plastic styles that look like wood. Some even come with liners that you can lift out, so you can easily change your plants when the seasons change.
No matter what style of window box you choose, prepare it well to support plant life. Place a thin layer of gravel at the bottom of the box before you fill it with potting soil. When it's time to plant, place the taller plants in the back of the box so you can create layered designs.
Finding the Right Box
The size of the window box you choose will make or break the overall look you're trying to create. A short window box may look dwarfed by the window, while one that is very long may look somewhat silly. Choose a box that's roughly the same length as the width of the window where it sits, and make sure the box isn't too small. You don't want the box to take up more than ¼ of the window's vertical space, or your plants could wind up blocking the light coming through the window.
Your window box should be at least 8 inches deep to give plants room to grow. And don't forget drainage holes, always a must for any container that holds plants. If you can't find a window box with drainage holes included, drill your own.
Install your window box using L-shaped brackets made out of a tough metal, ideally steel. If you're worried that the brackets will show, there are many types of decorative brackets available that can add to the overall look of the window box. Use anchors to ensure your brackets are secure and strong enough to support the weight of the window box. Choose anchors based on the material you're mounting them to. For example, you can't use expandable anchors on brick.
What to Plant
Choose plants that have the same sunlight and water requirements, and have fun mixing and matching different items. Flowers, herbs, ferns, and evergreens all make exceptional window box plants. Miniature boxwoods and cypress plants will stay green year-round, even when your other plants are dormant.
Bacopa, lobelia, alyssum, verbena, coral bells, and petunias are all excellent choices for window boxes. These plants produce a profusion of flowers. But you don't need flowers to add color to your window boxes. There are many plants that produce vivid foliage that look incredible. Coleus, lantana, and licorice vines all create eye-catching foliage that looks just as lovely as flowers.
Want your window box plants to explode out of the box? Look for trailing plants that will hang down outside the box. Sweet potato vine, ivy, creeping myrtle, and snapdragon will grow downward and add even more life to your window box design.
Sun vs. Shade
Where your window box is placed will determine which types of plants you place in it. A north-facing window box that receives less sunlight should be filled with shade-loving plants such as maidenhair ferns, heliotrope, impatiens, fuchsia, and wax begonia. A sunny window box needs lavender, marigold, periwinkle, rosemary, and other sun-loving plants.
Add Some Height
Combine trailing plants, flowering plants, and vivid foliage with plants that grow upward to give your window box some layers. Ornamental grasses add height to window boxes, making it easy for you to create multiple layers. Japanese sweet flag, sedge, red fountain grass, blue lyme grass, and feather reed grass all grow well in containers and look beautiful when paired with other plants.
Perfect Window Boxes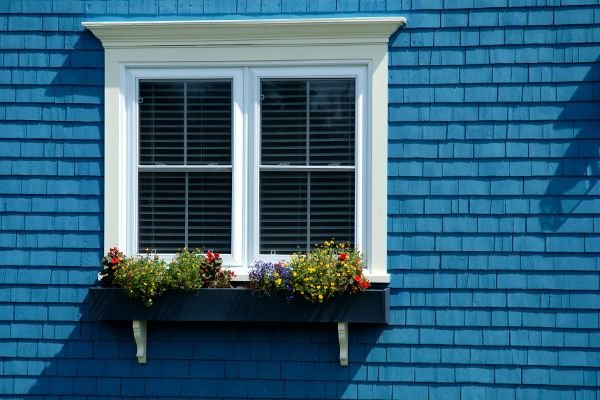 Create perfect window boxes by choosing the right boxes and the right plants to create the look you want. Once your boxes are planted, water them regularly and prune away dead foliage and flowers. With light maintenance, window boxes will thrive and add beauty to your home.